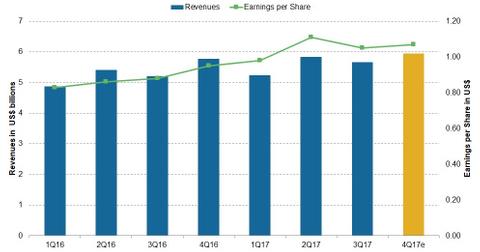 Analysts' Estimates for Eli Lilly's 4Q17 Earnings
By Mike Benson

Updated
A look at Eli Lilly & Co.
US-based pharmaceutical company Eli Lilly & Co. (LLY) has a product portfolio that includes human health products and animal health products. Based in Indianapolis, Indiana, Eli Lilly plans to release its 4Q17 and fiscal 2017 earnings on January 31, 2018.
The chart above compares revenues and EPS for Eli Lilly since 1Q16 and estimates for 4Q17. Eli Lilly (LLY) surpassed Wall Street analysts' estimates for earnings per share (or EPS) and revenues during 3Q17.
The company reported EPS of $1.05 on revenues of ~$5.7 billion compared to the estimated EPS of $1.03 on revenues of ~$5.5 billion.
Article continues below advertisement
Analysts' estimates
For 4Q17, analysts estimate EPS of $1.07 on revenues of ~$5.9 billion. The company's top line is estimated to increase 3.1% during 4Q17, driven by the strong performance of its Human Pharmaceuticals and Animal Health Products segments during the quarter.
For fiscal 2017, analysts expect Eli Lilly to report EPS of $4.22 on revenues of ~$22.7 billion, representing 6.7% growth in revenues compared to ~$21.2 billion during fiscal 2016.
The US market contributes ~55.0% of the company's total revenues, while the international markets contribute ~45.0% its total revenues. The company is exposed to currency risk, and analysts expect foreign exchange to have a favorable impact on revenues during 4Q17 and fiscal 2017.
Profitability estimates
Analysts' estimates show a gross profit margin of 74.0% for 4Q17, an ~3.4% decrease compared to its 4Q16 gross profit margin because the cost of goods sold is increasing due to new products.
Eli Lilly's lower R&D expenses and lower SG&A (selling, general, and administrative) expenses as a percentage of total revenues are expected to contribute to the growth of its EBITDA[1. earnings before interest, tax, depreciation, and amortization] margin to 27.9% during 4Q17. In comparison, its EBITDA margin was 24.3% in 4Q16. LLY's net adjusted income is expected to increase to ~$1.1 billion in 4Q17.
For fiscal 2017, Eli Lilly's gross margin is expected to be 75.5%, a 1.0% decline compared to its gross profit margin for fiscal 2016. The company's EBITDA margins are expected to increase to 30.0%, and the net adjusted income is expected to increase to ~$4.5 billion in fiscal 2017.
The Vanguard Health Care ETF (VHT) holds 2.3% of its total investments in Eli Lilly & Co. (LLY), 2.7% in Bristol-Myers Squibb (BMY), 4.2% in Merck & Co. (MRK), and 10.3% in Johnson & Johnson (JNJ).