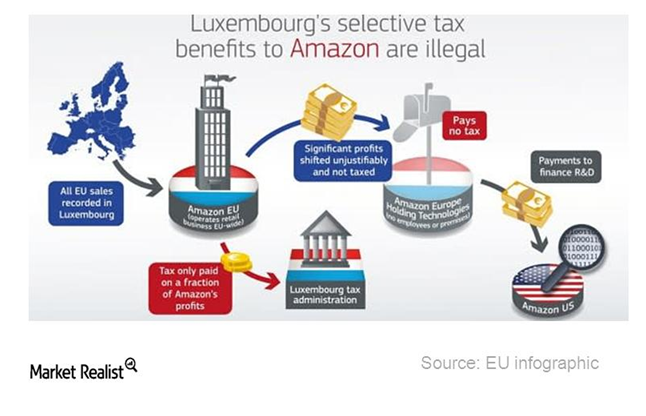 What Amazon Is Saying about the European Union's Tax Claim
By Neha Gupta

Jan. 24 2018, Updated 2:34 p.m. ET
European Union seeking to recover $295 million from Amazon
Amazon (AMZN) is scheduled to report its 4Q17 earnings at a time when it's battling accusations that it enjoyed unlawful tax benefits from Luxembourg, a member country of the European Union's (EZU) economic bloc.
The European Commission, the European Union's executive arm, is demanding that Amazon release hundreds of millions of dollars in unpaid taxes. In October 2017, the European Commission ordered Luxembourg to recover nearly $295 million in back taxes from Amazon.
Article continues below advertisement
Luxembourg challenges the tax claim
According to EU officials, Luxembourg extended illicit tax benefits to Amazon. As a result, the European Union claims that a significant portion of Amazon's profits generated in Europe (EFA) wasn't taxed for years.
Amazon and Luxembourg rejected the European Union's claim that there were unlawful tax dealings between them. In December 2017, Luxembourg moved the court to challenge the European Union's tax claim. We'll have to wait and see if Amazon executives address that issue at the company's upcoming earnings conference call. Amazon will hold a conference call to discuss its 4Q17 results on February 1, 2018.
US companies facing tax questions in Europe
For Amazon, there is more than just a financial impact to the European Union's tax claim. It doesn't do well for the company's reputation to be accused of trying to dodge taxes.
But Amazon is far from being alone in tax run-ins with the European Union. Apple (AAPL), McDonald's (MCD), and Microsoft (MSFT) are other US (SPY) companies whose practices have been scrutinized by the European Union.