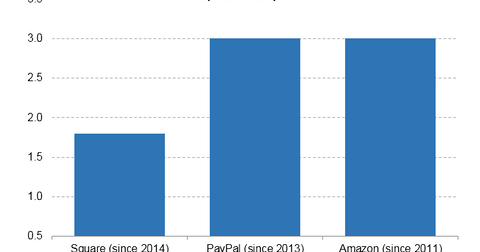 What Is Amazon Planning in the Cryptocurrency World?
By Ruchi Gupta

Updated
Amazon acquires cryptocurrency domains
Amazon (AMZN) registered three new domain names in recent weeks, and the move appears to signal its interest in cryptocurrency. Domain name industry publication DomainNameWire reported that Amazon registered amazonethereum.com, amazoncryptocurrency.com, and amazoncryptocurrencies.com. The company already owns the amazonbitcoin.com domain name, which it registered three years ago.
Amazon hasn't disclosed its intentions for the cryptocurrency-related domain names, and this is fueling speculation about Jeff Bezos—the billionaire founder and CEO of Amazon—might have in mind.
Article continues below advertisement
Amazon rules out cryptocurrency payments – for now
Could Amazon start accepting cryptocurrency payments on its e-commerce platform? On this question, the company has so far spoken to the contrary. Speaking to CNBC in October, Patrick Gauthier, vice president of Amazon's External Payment Services division, said the company had no plans to accept cryptocurrency.
Cryptocurrency exchange venture
If Amazon isn't going to start accepting cryptocurrency payments like Overstock.com (OSTK) and Expedia (EXPE) do, then its registration of cryptocurrency-related domains could point to a possible move into the cryptocurrency exchange business.
The recent spike in bitcoin prices highlighted the growing interest in virtual currencies as an investment, and this could be something that Amazon is studying carefully. From a competition point of view, Square's (SQ) recent move to introduce bitcoin trade to users of its Square Cash app might encourage Amazon to respond in kind. Amazon, Square, and PayPal (PYPL) compete in the merchant payments processing and alternative lending markets.
The chart above shows how Amazon, Square, and PayPal have extended loans to their customers.