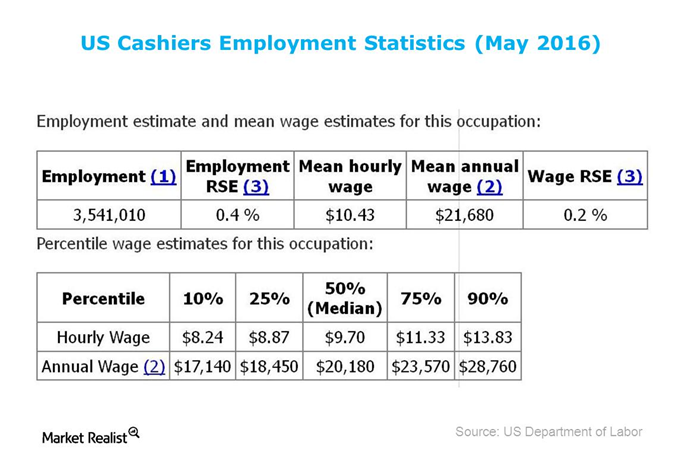 Amazon Go Could Raise Employment Question
By Neha Gupta

Dec. 4 2020, Updated 10:43 a.m. ET
Amazon Go operates without cashiers
Amazon's (AMZN) automated Amazon Go store concept promises to improve the experience of shoppers by eliminating the long lines at store checkouts. The concept might also raise job creation questions.
At the Amazon Go store, shoppers scan their Amazon Go app (application) when they walk into the store. Then they choose the items they want from the shelves, and the app automatically registers the purchase. If an item is returned to the shelf, the purchase is reversed. Amazon bills customers automatically on their app as they leave the store. There are no human cashiers, which is where the jobs question could arise.
Article continues below advertisement
Nearly 900,000 cashiers in the grocery industry
Data from the United States (SPY) Department of Labor show that more than 3.5 million Americans worked in cashier positions as of May 2016, the latest available official data. Cashiers earned an average hourly wage of $10.43. Grocery stores accounted for more than 32.2% of cashier positions at that time, which is nearly 900,000 cashiers employed in the grocery industry.
Since Amazon Go eliminates the need for cashiers, the high-tech (technology) store concept could lead to a loss of thousands of jobs. The public opening of Amazon Go and the prospects of cashier job losses come at a rather contentious moment for Amazon. At the end of 2017, President Donald Trump suggested that the US Postal Service was getting a raw deal from its delivery arrangement with Amazon.
100,000 US jobs
At the beginning of 2017, Amazon pledged to create 100,000 high-paying jobs in the United States in the next 18 months. A few months ago, the company said its second headquarters, which will be located somewhere in North America, would create 50,000 high-quality jobs. Other companies such as Sprint's (S) parent SoftBank, Alibaba (BABA), and Apple (AAPL) have also promised investments to help create more US jobs.
We'll have to wait and see if Amazon Go and job creation will be part of Amazon executives' discussions in the company's upcoming 4Q17 earnings call.