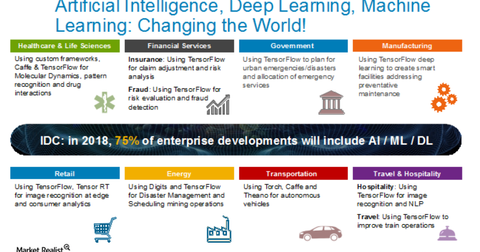 Why Amazon Found a Tough Competitor in Microsoft
By Anne Shields

Updated
Microsoft's deep roots in enterprise software space gives it an edge over its peers
In this series, we've looked at Microsoft's (MSFT) improving position in the cloud space, facilitated by the increased adoption of Azure, its cloud computing offering.
Microsoft, a leader in the enterprise software space, is benefiting from the changing trend in the cloud space, which is strategically moving away from hardware to sophisticated software. It's Microsoft's deep roots in the software space that's giving the company an edge over its peers, especially Amazon (AMZN). It's also digging deeply into AI (artificial intelligence) technology, which will further its cause of gaining a strong foothold in the concentrated, competitive cloud space.
Article continues below advertisement
In a blog post, Microsoft explained how hybrid cloud, AI, and IoT (Internet of Things) technologies are interconnected and complement each other. It stated, "Hybrid is essential in a world of AI and IoT as we move towards an Intelligent Cloud and Intelligent Edge working together. A distributed hybrid cloud enables a future-proof, long-term approach – which is exactly why we see it playing a central role in cloud strategies for the foreseeable future."
Enhancement of Azure's capabilities is removing cloud barriers
Microsoft outlined Azure's role in defining IT strategy, stating, "While the vast majority of organizations have moved to a cloud-first technology strategy, most are still early on realizing this strategy due to a number of aspects from technology complexity to evolving regulations. Over the past year, the Microsoft Azure team has explicitly focused on removing all barriers for enterprise customers, so that even the most complex technology and policy requirements are uniquely met with Azure."
Citing LogicMonitor's survey results, Forbes wrote that 41% of enterprise workloads are expected to run on public cloud platforms by 2020. Public cloud space is dominated by Amazon's AWS (Amazon Web Services), Microsoft's Azure, International Business Machines' (IBM) Cloud, and Google's (GOOG) Cloud Platform. About 20% of the workloads are predicted to run on private cloud platforms, while this figure is 22% for hybrid cloud platforms by 2020. On-premise workloads are expected to shrink significantly, as you can see in the above graphic.
Microsoft Azure is likely to be the key beneficiary of this trend. Azure is currently a preferred choice, but with each passing quarter, Microsoft is evolving its cloud computing offering to suit the changing IT (information technology) requirements that are likely to lead to its further adoption.