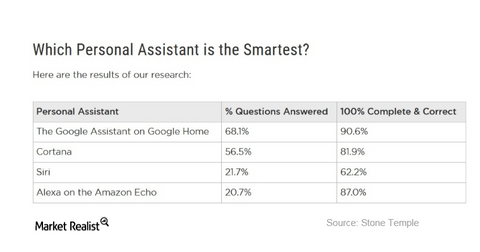 Alphabet's Google Projects Growth in Voice Search
By Neha Gupta

Updated
Voice assistant arms race
As Alphabet's (GOOGL) Google positions its Google Assistant voice software for future computing interfaces, it is important to examine the ground the company has covered in voice search and what the future might hold.
Google's Assistant software is in the same class as Siri from Apple (AAPL), Cortana from Microsoft (MSFT), and Alexa from Amazon (AMZN), except that some studies have shown it to be smarter than the competition. Facebook's (FB) voice assistant software is called M.
Article continues below advertisement
Google Assistant's answers were 91% accurate
In a study assessing the ability of these voice assistants to answer 5,000 random queries, digital marketing consultant Stone Temple found that Google Assistant outperformed the competition. For example, the assistant answered 68.1% of the questions posed to it and returned complete and correct answers 91% of the time. In contrast, Apple's Siri answered 22% of the questions and returned 62% accurate answers.
A different study by Loup Ventures also showed Google Assistant beating the competition. But Amazon leads in the sale of smart speakers embedded with voice assistants, according to eMarketer.
Internet search shifting to voice
Studies that show that Google's voice software is leading in its ability to process more questions and supply accurate answers fit with the company's goal of improving experiences for its users. Speaking at a Credit Suisse event recently, Google's chief business officer talked at length about improving user and advertiser experiences. He also repeated a line that Google has shared in the past, that more than 20% of the queries it processes from Android devices are voice-based. Microsoft, which runs the Bing Internet search engine, said that 25% of the searches it processes are voice-based.
As more people embrace assistive technologies and get used to natural language-based interactions, Google expects voice to take up a larger share of Internet search queries.