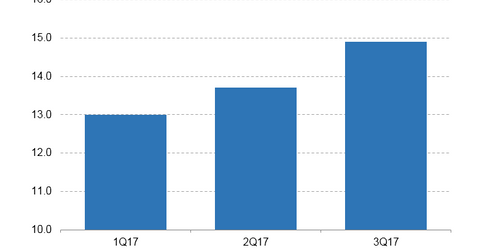 Alphabet's Google Continues to Show Appetite for China
By Neha Gupta

Updated
Increased Google activities in China
Alphabet (GOOGL) is gearing up to report results for the quarter wrapping up its activities in 2017, a year characterized by increased Google activities in China (MCHI). The company is showing more appetite for the country's large and promising technology (QQQ) market.
Google made several notable moves in China in 2017, with 4Q17 being one of its busiest times of the year in the country. In December, for instance, Google officially announced that it was setting up an AI (artificial intelligence) research center in Beijing, China, to tap into the country's pool of highly skilled AI experts.
Article continues below advertisement
Laying ground for return to China
In the same month, and before the announcement of the Beijing-based AI center, Google's chief executive officer Sundar Pichai attended a high-profile technology event in China. The event, reported by Reuters, was held by the Chinese agency that oversees Internet censorship.
Most of Google's Internet services have been blocked in China since 2012 after the company disagreed with Chinese authorities over Internet surveillance and censorship. Facebook (FB) and Twitter (TWTR) also do not operate their social media services in China.
But Google has made moves recently that suggest it could be preparing the ground for its full return to China as it tries to grow its offshore business. In 3Q17, 54% of Alphabet's revenue was generated outside the United States (SPY).
Google makes second investment in China
Just a few weeks after announcing its Beijing-based AI center, Google revealed that it recently helped raise capital for Chinese eSports platform Chushou. Funding Chushou marked Google's second investment in China in recent years. In 2015, Google helped raise $75 million in funding for Chinese AI startup Mobvoi and took a stake in the business.