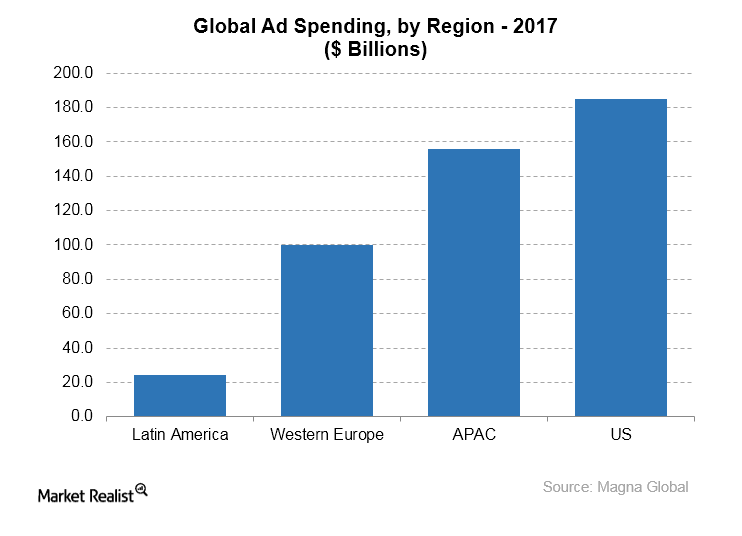 How Is Alphabet Stimulating Growth in Asia-Pacific Region?
By Neha Gupta

Jan. 9 2018, Updated 9:04 a.m. ET
Google opened first offshore office in Japan
Alphabet (GOOGL), then operating as Google, opened its first offshore office in the APAC (Asia-Pacific) region over ten years ago. Google's maiden overseas location opened in Tokyo, Japan (EWJ). To date, Google still thinks that the APAC region has the potential to transform its fortunes for the better.
Google's chief business officer, Philipp Schindler, talked about the company's "really nice development" in the region when he spoke at a recent Credit Suisse conference. Schindler also said that Google has invested a lot in APAC and other emerging markets (EEM) and that it will continue to do so.
Article continues below advertisement
APAC sales grew 29%
In 3Q17, Alphabet's APAC revenue increased 29% year-over-year to $4.2 billion, the fastest growth since the company started disclosing the metric. How's Alphabet, and particularly Google, driving growth in the region?
Launching region-specific products
One of the ways Alphabet is stimulating growth in APAC is through region-specific products in order to target users in these regions. An example of Google's region-specific products is Tez, a mobile payments app designed for the Indian market. Tez was launched in mid-September 2017 and in about five weeks it had attracted more than 7.5 million users and supported over 30 million transactions.
Optimizing core products for APAC
Google is also fueling growth in the region by optimizing its existing core products such as Google Maps and YouTube to work better for users in the region. An example of this is YouTube Go for India (INDA), a lighter version of the original YouTube that works well in environments with poor Internet connectivity.
Microsoft (MSFT), Facebook (FB), and Twitter (TWTR) have also worked to optimize their core products for emerging markets. For example, there is Skype Lite and Twitter Lite for users in the developing world.
The APAC advertising market was estimated to be worth $156 billion in 2017, according to research firm Magna Global.