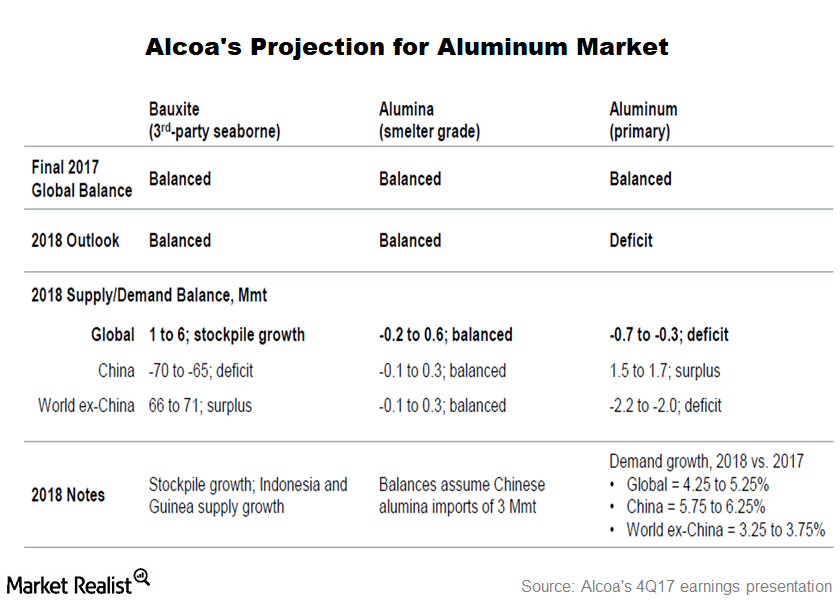 Alcoa Discussed Aluminum's Demand-Supply Equation
By Mohit Oberoi, CFA

Jan. 22 2018, Updated 2:13 p.m. ET
Aluminum's demand-supply equation
In the long term, underlying demand-supply dynamics tend to impact metal prices. Aluminum isn't an exception. In this part, we'll see what Alcoa's (AA) management had to say about aluminum's demand-supply equation during its 4Q17 earnings call. First, let's see what Alcoa had to say about the 2017 market balance.
According to Alcoa, global bauxite and alumina markets (AWC) were balanced in 2017. We should remember that markets are said to be in a state of "balance" when supply keeps pace with demand. Markets are said to be in a "surplus" when supply exceeds demand. When demand outstrips supply, it's a "deficit."
Article continues below advertisement
2018 outlook
In bauxite (RIO), Alcoa sees an increase in China's inventory as "Chinese refineries continue to have an appetite for imported bauxite and supported by increased Indonesian exports and continued production growth in Guinea." In alumina, the company sees a balanced market in 2018. According to Alcoa, "For environmental reasons, we have seen China curtail some refining capacity for the winter heating season between November 15 and March 15, and we anticipate that they will do so again next winter."
Aluminum
According to Alcoa, global aluminum demand growth was more than 5% year-over-year in 2017. The company expects global aluminum demand to grow 4.25%–5.25% in 2018. Alcoa sees ex-China demand growth to be higher in 2018—compared to 2017. Alcoa's management also sounded optimistic about capacity curtailments in China. It expects China's aluminum surplus to be lower in 2018—compared to 2017. Notably, China's aluminum surplus fuels the country's aluminum exports (S32) (CENX). Overall, Alcoa expects global aluminum markets to move into a deficit in 2018.
In the next part, we'll see what Alcoa had to say about China's supply-side reforms.