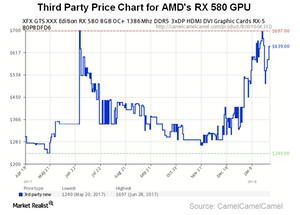 Should Advanced Micro Devices, Nvidia Worry about Cryptocurrency?
By Puja Tayal

Updated
Why is the cryptocurrency trend worrisome?
In the previous part, we saw that the cryptocurrency boom is driving demand for Advanced Micro Devices' (AMD) and Nvidia's (NVDA) GPUs (graphics processing units). When the price of cryptocurrencies rise, the demand for GPUs surges as more and more crypto miners enter the market. When cryptocurrency prices fall, crypto miners exit the market, and the GPU demand in this space declines or even vanishes.
Since GPU demand from crypto miners is situational, they have no brand loyalty. Crypto demand shouldn't be considered a long-term growth factor by GPU suppliers. That happened in the 2013 bitcoin boom and is now happening with the Ethereum boom.
What worries analysts more is that the windfall sales from the cryptocurrncy boom are eclipsing the weakness in AMD's PC (personal computer) business.
Article continues below advertisement
Crypto miners versus gaming enthusiasts
The demand for crypto miners has surged to such an extent that they are gobbling up the entire inventory of AMD's Vega GPUs. Adding to the trouble, AMD is facing supply issues with Vega limiting its supply in the crypto enthusiast markets.
E-tailers such as Newegg, Best Buy, and Amazon (AMZN) are cashing in on this demand-supply imbalance and increasing prices for AMD's and Nvidia's popular GPUs. AMD's RX 570/RX 580 and Nvidia's GTX 1070/1080 GPUs were sold out at the three e-tailers by mid-day on January 22, 2018, even though they were priced at double or triple their listed prices.
As crypto miners are buying up GPUs, PC gamers are having difficulty getting them. Even if they find a GPU, it's priced so high that they may not buy it. That could hurt GPU makers in the long term.
Negative impact of the crypto trend 
In an email, Shrout Research analyst Ryan Shrout stated that since gaming enthusiasts and DIY (do-it-yourself) builders are unable to access the latest GPUs, they're no longer upgrading their systems. That's affecting the sales of other vendors supplying other components such as processors and motherboards.
If this trend continues, said Shrout, it may not be long before PC gamers switch to powerful game consoles such as Microsoft's (MSFT) Xbox One X or move to other sources of entertainment, which would affect PC gaming growth.
We'll have to wait and see what AMD and Nvidia do to protect the core PC gaming market from the short-term cryptocurrency trend.
AMD and Nvidia are currently building crypto cards specifically for mining. Despite this, miners are buying the latest high-performance GPUs meant for gamers. Perhaps the companies will take drastic steps. Maybe they'll design their gaming GPUs so mining functionalities are limited. Or maybe they'll encourage their retail partners to limit GPU sales to one or two cards per household. We'll have to keep watching.