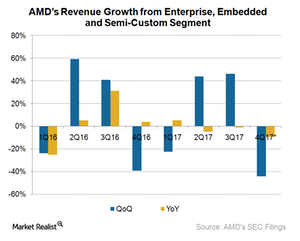 Advanced Micro Devices: Enterprise, Embedded, and Semi-Custom
By Puja Tayal

Updated
AMD's Enterprise, Embedded, and Semi-Custom segment
In the previous parts of this series, we saw that Advanced Micro Devices (AMD) has risen from the ashes, thanks to the revival of its CG (Computing and Graphics) segment. Its Ryzen CPU (central processing unit) moved the company to profit. AMD is now expanding its Vega GPU (graphics processing unit) lineup to further improve its profits.
While CG earnings improved, earnings for its other segment, EESC (Enterprise, Embedded, and Semi-Custom), slowed down. The segment offers semi-custom chips used in game consoles, server chips, and embedded chips.
Article continues below advertisement
Between 2012 and 2016, when AMD lost its share in the CPU and GPU markets to Intel (INTC) and Nvidia (NVDA), sending the CG segment deeply into the red, the EESC segment took the helm. EESC's revenues rose from $700 million in 2012 to $2.7 billion in 2016, driven by increased shipments of connected devices and gaming consoles.
EESC earnings
The first and fourth quarters of a fiscal year are seasonally weak for EESC since the demand for APUs (application processing units) from Sony's (SNE) PlayStation and Microsoft's (MSFT) Xbox fades. During those quarters, revenue comes largely from server and embedded units.
Article continues below advertisement
Semi-custom
As you can see in the above graph, EESC's fiscal 3Q16 revenue rose 31% YoY (year-over-year) and 41% sequentially when Sony launched its game console refresh called PlayStation 4.5. AMD realized that its large dependence on game consoles could prove to be fatal with the growing popularity of e-sports driving gamers toward PC gaming. AMD is now offering Ryzen APUs for gaming laptops and desktops.
Enterprise
AMD is also expanding its enterprise market by getting its EPYC server CPU qualified by more and more cloud customers. So far, it has secured design wins from Baidu (BIDU) and Hewlett Packard Enterprise (HPE) for its EPYC server. Sales from that should reflect in its fiscal 2018 earnings.
Baidu is also using its Radeon Instinct GPU. Like Nvidia, AMD is now developing GPUs specifically for machine learning.
Article continues below advertisement
Embedded units
Until now, AMD was nowhere to be found in the upcoming trends of autonomous driving and AI (artificial intelligence). But AMD is now developing Vega GPUs that can be used for both. In September 2017, a CNBC report stated that Tesla (TSLA) is rumored to be using AMD's IP (intellectual property) to build its autonomous driving platform.
Licensing
AMD is also monetizing its IP to boost earnings. So far, it has secured two licensing deals and is in talks with several companies for licensing deals.
Overall, the future could be promising for both of AMD's segments, with success largely dependent on the competitiveness and adoption of its new products.