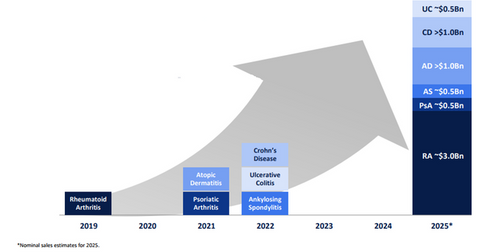 Understanding AbbVie's Positive Upadacitinib Data for Atopic Dermatitis
By Margaret Patrick

Updated
Atopic dermatitis indication
On September 7, 2017, AbbVie (ABBV) posted positive results from a phase-2 clinical trial that studied the efficacy of its investigational therapy, Upadacitinib, in adult patients suffering from moderate to severe atopic dermatitis (or AD) who didn't respond sufficiently to topical ointments or for those who were not medically eligible for treatment with topical ointments.
All of the tested daily dosages of Upadacitinib reported robust efficacy in AD patients compared with a placebo. The drug also demonstrated rapid response time as patients witnessed significant declines in pruritus in the first week of therapy and reductions or improvements in skin lesions in the second week of therapy.
At the end of 16 weeks, ~50% of patients treated with Upadacitinib demonstrated 90% or higher improvement in skin lesions. AbbVie plans to commence phase 3 studies for Upadacitinib for the AD indication in 1H18.
Notably, AbbVie accounts for ~0.67% of the iShares Core S&P 500 ETF's (IVV) total portfolio holdings.
Article continues below advertisement
The above diagram shows the anticipated launch timeframe for Upadacitinib for various autoimmune indications as well as for the growth opportunity available for the drug in each of these therapeutic areas. Upadacitinib is expected to help AbbVie pose strong competition to immunology players like Pfizer (PFE), Johnson & Johnson (JNJ), and Amgen (AMGN).
Label expansion
Upadacitinib is now being studied for six indications and has already generated positive data in segments such as gastroenterology, dermatology, and rheumatology. AbbVie expects Upadacitinib to emerge as a best-in-class treatment option for rheumatoid arthritis (or RA) patients.
AbbVie also expects to report supporting data for Upadacitinib in an RA indication from two clinical trials in 2018. AbbVie has planned to file an application with the US Food and Drug Administration (or FDA) seeking approval for Upadacitinib for the RA indication in 2018 and anticipates a commercial launch of this drug in 2019.
On May 09, 2017, AbbVie announced positive results from its phase-2 Celest trial, which evaluated Upadacitinib in patients suffering from moderate to severe Crohn's disease.
AbbVie expects to launch Upadacitinib for five more indications by 2022, and it expects to generate revenues of close to $6.5 billion from sales of Upadacitinib across six indications by 2025.
In the next part, we'll discuss Risankizumab's growth prospects.