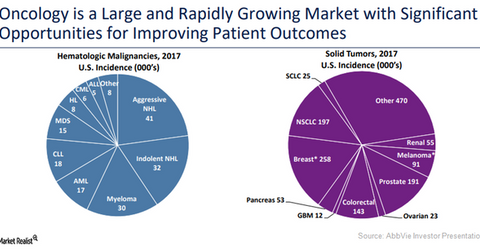 AbbVie's Position in the Growing Oncology Market in 2018
By Margaret Patrick

Updated
Oncology market opportunity
AbbVie (ABBV) is focused on advancing its already strong position in the hematologic oncology segment in 2018. The overall hematologic malignancy and solid tumor market in the US is currently worth $87 billion and is expected to reach a market value of $169 billion by 2025.
According to estimates from American Cancer Society, SEER, Kantar Health, IMS Institute Healthcare Informatics, Global Oncology Trend Report, and Evaluate Pharma, the total number of cancer patients worldwide is expected to reach 19 million by 2025. The lifetime risk of developing cancer for any person is expected to be ~40% by 2025.
Article continues below advertisement
In the past ten years, the number of oncology drugs in the research pipeline has grown by ~63%. But despite the launch of multiple new therapies, there's still significant unmet demand in this segment. Currently, it's been seen that ~33% of the cancer patients die within five years of diagnosis, while as high as 80% of metastatic cancer patients die within five years of diagnosis.
The above diagram shows the incidence of patients with various hematologic malignancies in the US in 2017. AbbVie is mainly focused on developing therapies for solid tumors and hematologic malignancies that have high rates of relapse as well as high five-year mortality rates.
In 2016, AbbVie's oncology portfolio targeted 17 indications, which rose to 44 in 2017. AbbVie expects to focus on ~57 oncology indications by 2020 on a risk-adjusted basis. Its robust oncology portfolio is expected to help AbbVie compete aggressively with peers like Pfizer (PFE), Merck (MRK), and Bristol-Myers Squibb (BMY).
Notably, AbbVie accounts for 1.4% of the Vanguard Growth ETF's (VUG) total portfolio holdings.
Global hematologic malignancy segment
With its two key oncology assets, Imbruvica and Venclexta, AbbVie is targeting multiple hematologic malignancies like multiple myeloma, non-Hodgkin's lymphomas, chronic lymphocytic leukemia, and acute myeloid leukemia.
According to estimates from Kantar Health's CancerMpact and Evaluate Pharma, the global hematologic malignancy market was worth $33.0 billion in 2017 and is expected to grow to $50 billion in 2020 and $65 billion by 2025. AbbVie aims to become a leading player in this rapidly growing oncology market segment.
In the next and final part of this series, we'll discuss the growth prospects for AbbVie's Imbruvica.