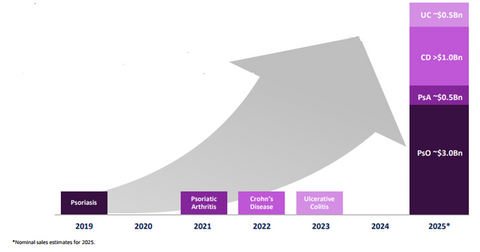 Why AbbVie Is Focused on Expanding Risankizumab's Label for Multiple Immunology Indications
By Margaret Patrick

Jan. 9 2018, Updated 10:32 a.m. ET
Market opportunity
AbbVie (ABBV) is focused on expanding Risankizumab's label for multiple indications such as psoriatic arthritis, ulcerative colitis, and Crohn's disease. The company expects to witness a significant rise in demand for Crohn's disease and ulcerative colitis patients, mainly driven by increasing diagnosis rates and the greater prevalence of patients already treated with biologics.
While tumor necrosis factor (or TNF) inhibitors are expected to continue being standard of care in the US and Europe, drugs deploying other novel mechanisms of actions (or MOAs) are expected to gradually capture market share in these therapeutic areas.
Article continues below advertisement
The inflammatory bowel disease (or IBD) therapies currently available have been found to be wanting in terms of sustained response, leading to high discontinuation rates among patients. The unmet need for improved patient-reported outcomes as well as higher endoscopic remission rates are expected to drive adoption of new therapies with innovative MOAs.
Additionally, there's also a need for better remission rates and improved long-term safety in new and existing IBD patients, which may enable a rapid uptake of newly launched therapies.
In this context, AbbVie expects Risankizumab to prove to be a potent treatment option for IBD patients who have not responded adequately to previous biologic therapies.
The above diagram shows the anticipated launch timeframe for Risankizumab across multiple immunology indications as well as the growth opportunity available for the drug in each of these therapeutic areas.
Multiple immunology indications
AbbVie has projected the nominal sales potential of Risankizumab to reach $5.0 billion by 2025, which would be a ~7% share in the growing immunology market. The company plans to commence its phase-3 trials of this drug for Crohn's disease and ulcerative colitis indications in coming months.
AbbVie has already presented favorable data from its phase-2 trial, which highlighted the efficacy of Risankizumab in terms of endoscopic response scores and remission in patients suffering from Crohn's disease. Risankizumab is thus expected to help AbbVie pose serious competition to immunology peers like Celgene (CELG), Eli Lilly (LLY), and Novartis (NVS).
Notably, AbbVie accounts for 0.67% of the SPDR S&P 500 ETF's (SPY) total portfolio holdings.
In the next part of this series, we'll discuss the growth opportunity for AbbVie in the oncology segment.