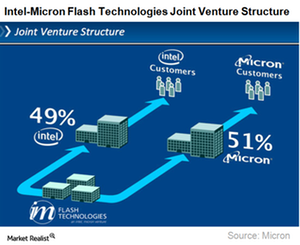 A Look at the Intel–Micron Partnership
By Puja Tayal

Jan. 19 2018, Updated 9:02 a.m. ET
Intel–Micron partnership ends
In the latest update on Micron Technology (MU), Intel (INTC) ended its 12-year-old flash memory partnership with the memory chipmaker in order to focus its NAND (negative AND) technology in its data-centric business.
In a press release, Intel senior vice president Rob Crooke said, "Intel and Micron have had a long-term successful partnership that has benefited both companies, and we've reached a point in the NAND development partnership where it is the right time for the companies to pursue the markets we're focused on."
The IMFT (Intel–Micron Flash Technologies) joint venture began in 2005, as the two companies made an extensive investment in building a plant in Lehi, Utah.
The two companies also collaborated in developing NAND flash technologies, which resulted in Micron transitioning to 3D NAND ahead of its competitors. One major portion of this venture was to make flash memory for Apple's (AAPL) iPods and iPhones.
The end of the partnership was likely as Intel reentered the memory market in late 2015 by converting its facility in Dalian, China (FXI), to manufacture 3D NAND. Intel plans to double the capacity of this facility by the end of 2018. This puts Intel in competition with Micron.
Article continues below advertisement
Impact on the partnership impact
Now that Intel and Micron have officially announced the termination of the partnership, it raises a question about what would happen to the products under development by the joint venture.
The two companies are currently ramping up production of the second-generation 64-layer 3D NAND. They expect to start initial production of the third-generation 3D NAND by the end of 2018, followed by a production ramp-up in 2019.
Intel and Micron would continue to collaborate on the 3D NAND development until the third generation. Beyond this, they would work independently on future generations of 3D NAND. They would design their 3D NAND technology roadmap according to their individual business needs.
Micron and Intel would also share the Utah facility dedicated to 3D XPoint products. Intel would continue to manufacture its 3D XPoint-based Optane products at this facility.
However, the two companies have not ruled out the possibilities of collaborating once again on other projects as the opportunity arises.
The end of this partnership looks like a strategic business decision that benefits both companies. However, industry sources and analysts are looking at the possible impact of this move on Micron. We'll look at the analysts' concerns in the next part of the series.