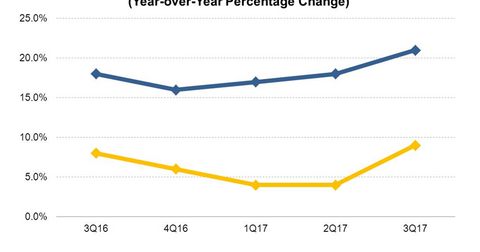 A Look at PayPal's Contract with eBay
By Neha Gupta

Updated
Non-eBay volume rose 35%
PayPal's (PYPL) exposure to eBay is diminishing as the company rapidly grows its non-eBay transactions. PayPal's CFO, John Rainey, told investors and analysts at a recent Credit Suisse conference that PayPal would like to continue to its contract with eBay (EBAY).
In 3Q17, eBay accounted for roughly 13.5% of PayPal's transaction volume, but eBay's share of PayPal volumes is declining ~4.0% every year. In contrast, PayPal said its non-eBay volumes grew 35.0% in 3Q17.
More than 17 million merchants use PayPal to process online payments. The company has made efforts in recent years through partnerships with Visa (V) and Mastercard (MA) to expand into physical stores.
Article continues below advertisement
eBay's contract with PayPal
While eBay is an important customer, the contract constrains PayPal in some ways. For example, as long as the current contract with eBay stands, PayPal's involvement with marketplaces is limited.
Rainey noted that if PayPal's assessment points to a compelling opportunity in the marketplace space, the company may determine that the eBay contract is inhibiting its growth. The chart above contrasts the quarterly revenue growth rates of PayPal and eBay.
As PayPal has sought a contract with Amazon (AMZN) for some time, it will be interesting to see whether Amazon would be interested in a partnership once PayPal's contract with eBay expires.