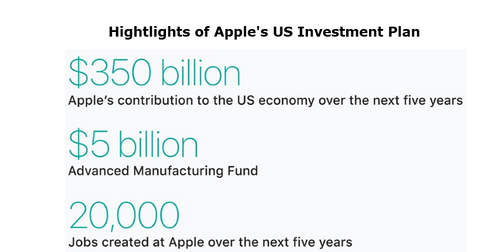 A Look at Apple's US Investment Plans
By Ruchi Gupta

Jan. 25 2018, Updated 7:34 a.m. ET
More than $30 billion in US capex
Apple (AAPL) plans to invest more than $30.0 billion in capital expenditures (or capex) in the US (SPY) over the next five years. This investment is part of the company's pledge to contribute $350.0 billion to the US economy over the next five years. Apple's $350.0 billion economic contribution is expected to stem from the company's direct investments as well as spending with American businesses.
Apple's $30.0 billion US investment budget includes building a new corporate campus, setting up more data centers, and hiring more than 20,000 new workers.
Apple's new campus project appears modeled along the lines of Amazon's (AMZN) HQ2 (second corporate headquarters), a facility that would be located in North America and could cost $5.0 billion to build. Amazon said HQ2 could accommodate 50,000 full-time employees.
Article continues below advertisement
Repatriating foreign profits
With more than $250 billion in profits held overseas, Apple (AAPL) is expected to take advantage of the lowered US tax rate to repatriate its overseas cash holdings. The US reduced its corporate tax rate on foreign profits to 8.0%–15.5% from the previous rate of 35.0%. This tax reduction is believed to be the source of the company's $30.0 billion US investment plan.
Investing in the US is expected to give Apple room to use some of its repatriated profits to boost shareholder capital returns. Apple returns value to its shareholders through stock repurchases and dividends.
Companies disappointed under the previous tax break
In 2004, the US allowed American multinationals such as Pfizer (PFE), Ford (F), and IBM (IBM) to bring back their foreign earnings at a special tax rate of 5.25%. It was hoped that the tax break would stimulate more investment and job creation in the US. 
However, the outcome was underwhelming as these companies mostly used their repatriated profits to benefit their shareholders through dividends and stock repurchases. These companies did less in terms of investing and creating jobs.