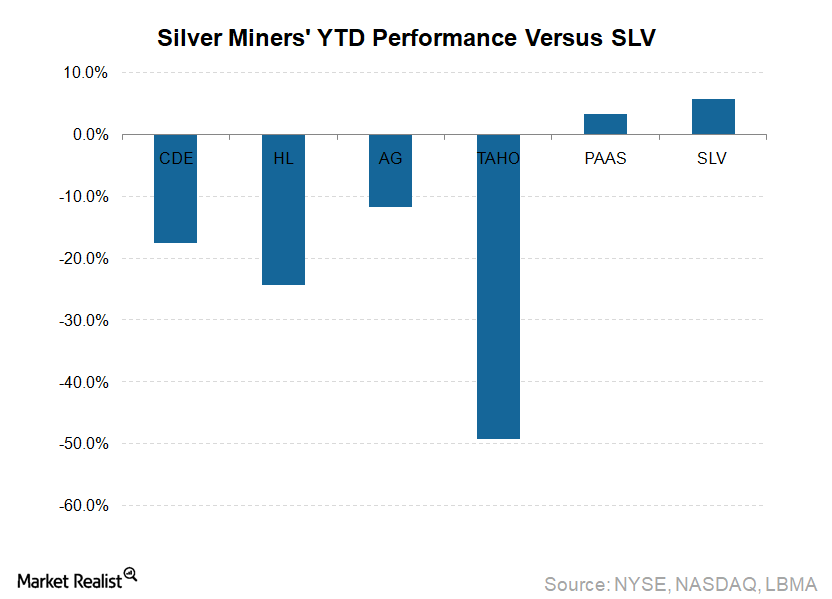 4Q17 Preview: Coeur Mining Seeks a Price Reversal in 2018
Coeur Mining's performance in 2017
In 2016, Coeur Mining (CDE) stock gained ~270.0%, which was among the highest in its peer group. In 2017, however, the situation reversed as its stock fell 17.5% during the year. Coeur Mining's loss was higher than the 1.7% return generated by the Global X Silver Miners ETF (SIL), which tracks the performance of the Global Silver Miners total return index.
Coeur Mining's higher operational leverage helped it outperform its peers in 2016. However, when precious metal prices were rising, its company-specific issues pushed its stock price down despite buoyant precious metal prices.
Article continues below advertisement
CDE's relative performance
However, Coeur Mining's weak stock performance in 2017 isn't limited to its own operations. Among its close peers, Tahoe Resources (TAHO), Hecla Mining (HL), First Majestic Silver (AG), and Silver Standard Resources (SSRI) generated returns of -49.2%, -24.2%, -11.7%, and -1.5%, respectively. Only Pan American Silver (PAAS) generated positive returns of 3.3%.
Labor issues at Hecla Mining's Lucky Friday mine in Idaho plagued the stock in 2017. Tahoe Resources has been under significant pressure after the Guatemalan government canceled the license for its flagship Escobal mine.
Series overview
After Coeur Mining's (CDE) relative underperformance in 2017, we'll look at the company's production and cost outlook for 2018. We'll also discuss the analysts' estimates regarding its revenues and earnings.
Coeur Mining is due to release its 4Q17 results on February 7, 2018, and it plans to hold the conference call with analysts the next day. We'll see how the analysts' estimates compare with the company's guidance and outlook.
Coeur Mining reported its production results on January 9, 2018. In the next part, we'll look at the company's production performance and its outlook.