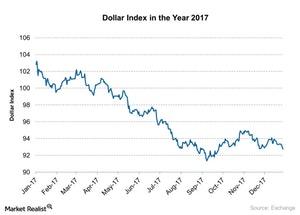 What's the Outlook for the US Dollar in 2018?
US dollar in 2017
The index showed a continuous fall between January 2, 2017, and September 7, 2017. It fell 12.2% during this period. However, after that, it recovered some points. The weakness in the US Dollar Index continued mainly due to the delay in various reforms in the United States (SPY) (QQQ) (SPX-INDEX) and the flattening yield curve. Flattening yield curves generally raise concern about the long-term economic growth outlook.
Article continues below advertisement
2018 outlook
The Fed started its gradual rate hike process in December 2015. The gradual interest rate hikes strengthen the movement of the Dollar Index. If this process continues according to the Fed's guidance and if various reforms take place, then we might see a strong improvement in the Dollar Index in 2018.
The PowerShares DB US Dollar Bullish ETF (UUP), which tracks the performance of the Dollar Index, dropped 8.8% in 2017. In the next part of this series, we'll analyze US economic growth in 2017.