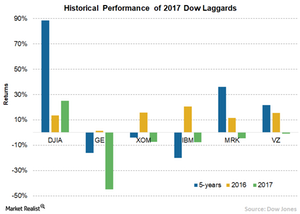 2017 Dogs of the Dow Were Winners in 2016
By Peter Barnes

Updated
Historical performance
In the previous part of this series, we looked at the Dow laggards that posted negative returns in 2017 despite the Dow having strong gains. Let's look at the performances of these laggards in 2016 and over the last five years.
Article continues below advertisement
Handsome gains in 2016
The Dow Jones Industrial Average (DJI-INDEX) (DIA) rose 13.4% in 2016. Surprisingly, all five of the 2017 laggards—General Electric (GE), International Business Machines (IBM), ExxonMobil (XOM), Merck & Co. (MRK), and Verizon Communications (VZ)—delivered positive returns in 2016. As you can see in the chart above, three of these companies outsmarted the Dow, and Merck's returns were very close to it. GE barely managed to hold positive gains.
Weak 5-year performances
We also need to take a quick look at these companies' performances over the last five years. The Dow has risen 88.5% since December 2012. With the exception of Merck (MRK) and Verizon (VZ), the laggards delivered negative returns during that period. Merck has risen 36.1%, and Verizon has risen 21.8%. IBM has fallen 20.1%, GE has fallen 16%, and ExxonMobil has fallen 3.9%.
Now we need to see if these Dow laggards could rebound in 2018. Let's take a look in the rest of this series.