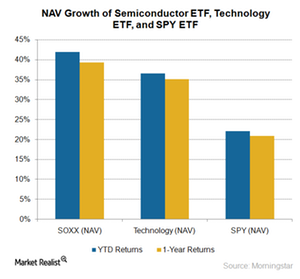 A Year in Review: Semiconductor Stock Performances in 2017
By Puja Tayal

Nov. 20 2020, Updated 3:04 p.m. ET
Semiconductor industry's growth spurt in 2017
The semiconductor market witnessed strong growth in 2017, as the world witnessed the beginning of the fourth technology shift toward AI (artificial intelligence) and IoT (Internet of Things). This data-driven economy will likely significantly boost the sales of the three basic essentials in devices: memory, processor, and wireless communication.
Th current technology shift could also reduce the cyclicality of the semiconductor industry by expanding its end markets to smart homes, smart cars, wearables, and many more.
Article continues below advertisement
IHS expects the overall semiconductor revenue to grow 21% YoY (year-over-year) to $428.9 billion in calendar 2017, with the largest growth coming from memory, wireless communications, and data processing segments. The WSTS (World Semiconductor Trade Statistics) expects global semiconductor revenues to grow 20.6% YoY in 2017 and 7% YoY in 2018.
Semiconductor stocks outperform the market
Calendar 2017 saw some major growth trends that boosted semiconductor stocks. The iShares PHLX Semiconductor ETF (SOXX) has risen 41.8% YTD (year-to-date), outperforming the S&P 500 Index (SPY), which has risen ~22.1% YTD.
Some of the early beneficiaries of the technology shift to AI have been NVIDIA (NVDA) and Intel (INTC). Their future growth potential in the AI and autonomous vehicle markets put them in the top five highest-traded semiconductor stocks.
Semiconductor trends in 2017
Another trend that boosted semi stocks was the supply shortage in the memory market. This shortage boosted the memory process and put Micron Technology (MU) in the list of top five semi stocks by revenues. Memory chip leader Samsung (SSNLF) overtook Intel to become the largest semiconductor company by revenues in 3Q17.
The third-biggest trend noted in the semiconductor industry was the surge of bitcoin and cryptocurrency, which pushed Advanced Micro Devices' (AMD) and NVIDIA's revenues. While this trend is temporary, it has introduced blockchain technology, which is a decentralized public ledger that supports secure accounting. In this technology, a database is distributed across several locations, making it difficult for hackers to breach the system.
Calendar 2017 also saw the first signs of some upcoming technologies, including VR (virtual reality) and AR (augmented reality), 5G, and autonomous cars. Calendars 2018 and 2019 should see the onset of these technologies, and new winners like Qualcomm (QCOM) and AMD will likely emerge.
That said, 2017 was not a great year for Qualcomm, as licensing disputes from several regulators and its biggest customer, Apple (AAPL), hampered its earnings significantly. This pushed Qualcomm from the third position down to the fourth position in our list of top five semi companies by revenue.
In this series, we'll examine 26 semiconductor stocks and the top five semiconductor stocks across various variables—all of which have drawn interest from different types of investors.