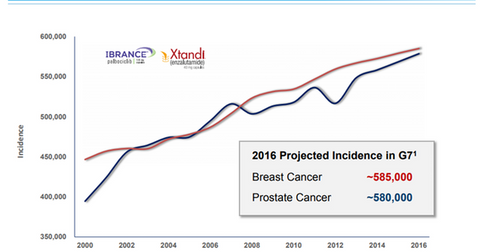 Xtandi's Prescription Volumes Continue to Rise in 2017
By Margaret Patrick

Updated
Xtandi's growth trends
Developed and commercialized in collaboration with Astellas, Xtandi generated alliance revenue of $150 million in 3Q17 according to Pfizer (PFE), marking operational growth of ~$148 million YoY (year-over-year). Xtandi had alliance revenue of ~$422 million in the first nine months of 2017, representing YoY growth of ~$400 million. The drug is used to treat first-line metastatic castration-resistant prostate cancer patients. To know more about Xtandi, read Xtandi Is Expected to Witness Strong Growth Trends Going Forward.
In 3Q17, Xtandi witnessed 15% YoY growth in demand, which translated into a robust rise in prescription volumes. However, the drug's revenue growth has been slower than its prescription volume growth due to high utilization of patient assistance free drug programs, which was at comparable levels in 1Q17 and 2Q17. Despite this tailwind, Xtandi reported sequential revenue growth in 2Q17 and 3Q17. The company expects drug program use to normalize in 2018. Pfizer makes up ~5.1% of the iShares Core High Dividend ETF (HDV).
In 3Q17, the number of urologists prescribing Xtandi for metastatic prostate cancer rose 37% YoY. Approximately 1,700 urologists prescribed the drug in 3Q17, whereas 407 prescribed Zytiga.
PROSPER trial
On September 14, 2017, Pfizer and Astellas reported positive results for their Phase 3 PROSPER trial, where Xtandi combined with ADT (androgen deprivation therapy) demonstrated statistically significant improvement in metastasis-free survival compared with ADT alone. These results were published two years earlier than anticipated.
Pfizer plans to publish this data at an upcoming medical congress and apply to the FDA for the drug's label expansion. Pfizer is also working with Astellas to secure approval for Xtandi in international markets. In the next article, we'll discuss Xeljanz.