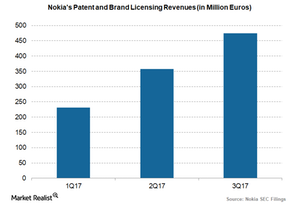 Will Nokia Get a Boost from Multiyear Patent Deal with Huawei?
By Sophia Nicholson

Updated
Nokia signs patent deal with Huawei
Nokia (NOK) recently signed a multiyear smartphone patent license agreement with Chinese (MCHI) (FXI) technology company Huawei. Though the details of the pact were not known, Nokia is expected to recognize patent licensing revenues from this deal beginning in the fourth quarter.
Article continues below advertisement
Licensing deals to boost revenues
Nokia has already inked various licensing agreements with the world's largest handset makers including Apple (AAPL), Samsung Electronics, LG, and Xiaomi. While the deal with Samsung disappointed its investors, Nokia's cross-licensing deal with Apple seemed to be favorable to Nokia.
The latest deal with Huawei also makes sense, as Huawei is China's most prominent telecom equipment maker by revenue and the world's third-largest maker of smartphones. The patent deals with large companies and could help Nokia reduce the need for hardware components in a phone, conserve battery life, and increase radio reception.
Patent licensing deals to offset the weakness in network business
Nokia was once the dominant player in the handset business and held the top position in this market for more than a decade. However, it failed to compete in the software market. Nokia finally had to sell off its handset business to Microsoft (MSFT) in 2014, but it remains a significant licensor of wireless technology and supplier of mobile and fixed-line network gear.
Currently, Nokia generates more than 90% of revenues from its telecom network business, which has been suffering of late, due to internal problems and industry-wide headwinds. Nevertheless, the Finnish company expects to offset its weakness from the revenues generated from highly profitable licensing deals. In the latest third quarter, Nokia made 474 million euros ($562 million) from sales of its patents and brand licensing, which represents around 8.6% of total group sales.
Nokia continues to focus on its licensing business to tap more opportunities to expand further.