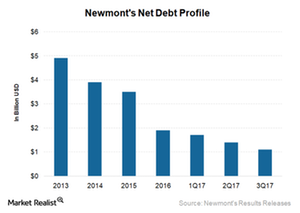 How Newmont Mining's Balance Sheet Could Look in 2018
By Anuradha Garg

Updated
Strengthening of its balance sheet
The gold mining sector experienced a watershed year in 2012. As gold prices fell off substantially after hitting a peak in 2011, gold mining companies worked to redefine their strategic priorities.
Strengthening balance sheets, streamlining portfolios, and setting up to weather a long-term downturn in gold prices emerged as the major themes of this strategic planning.
Miners Newmont Mining (NEM) and Barrick Gold (ABX) had put more strain on their balance sheets, acquiring assets at the peak of the cycle. They were, therefore, more focused on cleaning up their balance sheets.
Newmont's debt reduction progression
Newmont Mining has done a commendable job in strengthening its balance sheet. Since 2013, the company has paid off ~$3.0 billion in debt. In the last year, the company paid off $575.0 million in debt and also extended a $3.0 billion revolving credit facility.
Its net debt to EBITDA[1. earnings before interest, tax, depreciation, and amortization] is just 0.4x currently, an improvement of 70.0% since 2013. This improvement is due to both debt reduction and improvement in EBITDA.
NEM's net-debt-to-EBITDA metric is more attractive compared to its peers (GDX)(GDXJ). Based on this parameter, its financial leverage is lower than that of Barrick Gold (ABX), Yamana Gold (AUY), and Goldcorp (GG).
Financial flexibility
Newmont Mining's current liquidity is $6.0 billion, which allows the company the financial flexibility to fund its project pipeline internally. In addition, it doesn't have any debt due until 2019. It also has one of the best credit ratings in the mining sector.
During its investor day, NEM's CFO, Nancy Buese, mentioned that its balance sheet strength and strong free cash flow generation would allow the company to focus on growth and margins as well to provide additional returns to shareholders.