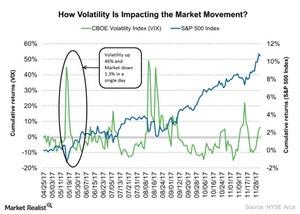 Can Low Volatility in the S&P 500 Index Continue?
By Sarah Sands

Dec. 4 2017, Updated 11:30 a.m. ET
Market volatility
The CBOE Volatility Index, which measures the volatility of the S&P 500 Index (SPX-INDEX) (SPY), rose 10.8% in November 2017. However, volatility has been falling gradually this year. The CBOE Volatility Index fell 18.8% on a year-to-date basis as of December 1, 2017. The S&P 500 Index (COMP-INDEX) has risen gradually for the same period at 18%.
The CBOE Volatility Index touched a record low of $8.84 on July 26, 2017. The index and the market generally react in opposite directions. When the market makes new highs and moves higher, the volatility index generally moves lower, and vice versa. The year-to-date performance of the S&P 500 Index and the CBOE Volatility Index are examples of this.
Article continues below advertisement
The continuous fall and a record low in the volatility index generally indicate a strong opportunity for market participants. In November 2017, the volatility index rose marginally compared to its performance in previous months. However, the S&P 500 Index made new highs on most days of November 2017.
In November, when any volatile situation arose, the market showed some nervousness and fell. However, it tended to recover the next day.
In the next part of this series, we'll analyze the performance of the dollar index in November 2017.