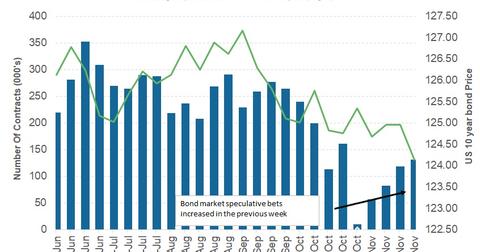 Why Bond Market Speculators Are Betting on Further Fall in Yields
By Ricky Cove

Updated
US bond markets improved marginally last week
The US bond (BND) market performance was mixed for the week ending December 1 as volatility increased in response to the uncertainty surrounding tax reforms and the Russian involvement in the US election. The tax reform bill, though released, did not have an impact, as the markets were closed by that time. There are also concerns among some investors about the impact of these tax cuts on the US Treasury, as its revenues are likely to fall after rates are cut.
Article continues below advertisement
Bond market performance and speculator positions
For the week ending December 1, the ten-year yield (IEF) rose to 2.4%. The two-year yield (SHY) closed at 1.8, up by three basis points, and the longer-term 30-year yield (TLT) closed at 2.8, down by one basis point in the last week. This uneven change in yields resulted in a further flattening of the yield curve last week.
As per the latest commitment of traders report, released on December 1 by the Chicago Futures Trading Commission (or CFTC), speculator long positions increased for the fourth consecutive week. The total net bullish positions as of Tuesday, November 28, rose from 111,080 contracts to 123,936 contracts. This data was through Tuesday, November 28, before the news of tax reforms or the developments surrounding Michael Flynn were reported.
The week ahead for the bond markets
Optimism from the developments over the weekend is likely to impact bond markets in the first part of the week. Investors are likely to weigh the impact of reduced revenues on US finances once the tax reforms are finalized. Non-farm payrolls data from November is due to be reported on Friday, but the impact on bond markets is likely to be limited as markets have accepted a rate hike in December. Overall, it could be another roller coaster ride for bond (AGG) market investors this week but powered completely by politics.
In the next part of this series, we'll understand the reasons behind the fall in the euro.