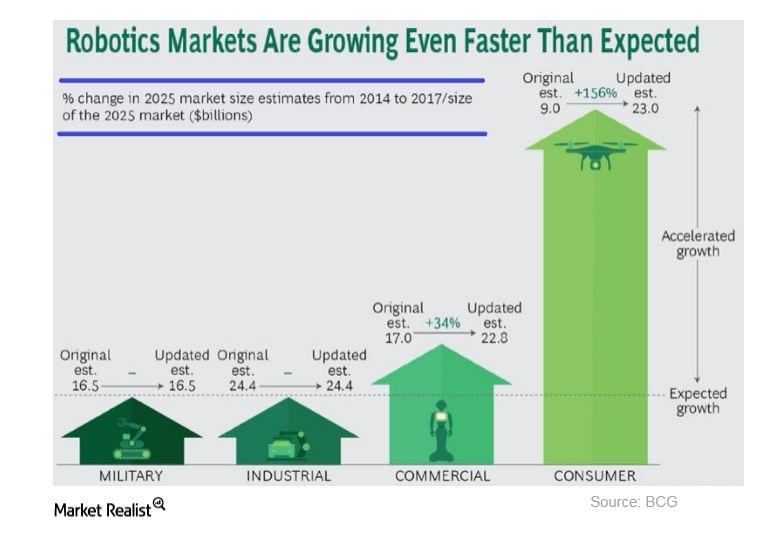 Where's the Market for Sony's Robot Dog?
By Ruchi Gupta

Dec. 6 2017, Updated 4:20 p.m. ET
The return of Aibo, the robot dog
Sony (SNE) is back with its robot dog, the Aibo. Last month, Sony unveiled the updated Aibo dog-shaped pet robot—more than a decade after the company discontinued the original Aibo in 2006.
The revamped Aibo will start at about $1,700, compared with the $600–$2,000 price range of the original robot dog. But there's a reason for the higher starting price of the new Aibo. The upgraded Aibo features improved AI (artificial intelligence) software as well as other technologies, which the company said should enable the robot to develop unique behavior patterns and work with other Internet-connected devices.
For the part that allows Aibo to improve over time, Sony is expected to charge Aibo owners about $25 a month for remote updates that would allow their robots to learn new tricks.
Article continues below advertisement
The $23-billion consumer robotics market?
But where's the market for Sony's Aibo? According to a new report by management consulting firm Boston Consulting Group, or BCG, the global market for robotics will be worth $87 billion by 2025.
Back in 2014, BCG projected that the global market for robotics would be worth $67 billion by 2025, but it recently revised the projection in light of the soaring demand for consumer robots—the same market Sony is eyeing with its Aibo. BCG now believes the consumer robotics market to be worth $23 billion by 2025, as opposed to the $9.0 billion it forecast in its previous report.
Competition could be stiff
According to BCG, then, there appears to be a huge market opportunity for Sony's Aibo. But even for Sony's upgraded Aibo, striking it rich in the potentially lucrative consumer robotics market won't likely be a cakewalk.
Even in its own backyard, Sony is likely to face stiff competition with Aibo. SoftBank, the Japan-based (EWJ) parent of the US-based (SPY) wireless operator Sprint (S), has its Pepper robot, which costs about $1,600. Toyota Motor (TM) also has its Kirobo Mini robot, which costs ~$350.