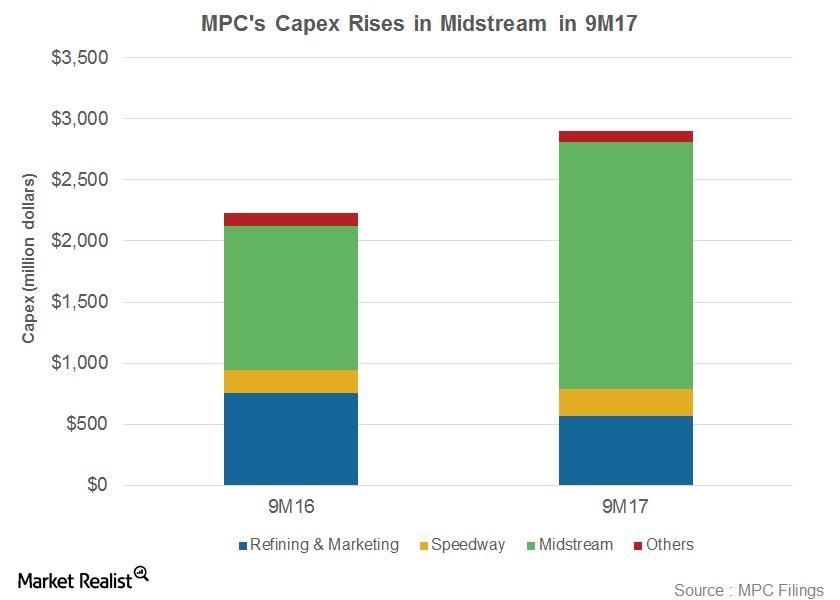 Where Marathon Petroleum's Capex Is Focused
By Maitali Ramkumar

Dec. 25 2017, Updated 9:00 a.m. ET
Marathon Petroleum's capex
Marathon Petroleum's (MPC) capex (capital expenditure) rose 30.0% year-over-year (or YoY) to $2.9 billion in 9M17, primarily due to its acquisition and investment in its Midstream segment.
In 9M17, MPC incurred 70.0% capex in the Midstream segment, 20% in the Refining and Marketing segment, and 8.0% in the Speedway segment. A steep rise in MPC's Midstream capex is due to the acquisition of the Ozark pipeline for $220.0 million and investment of $500.0 million in MarEn Bakken, concerning the Bakken Pipeline system.
Article continues below advertisement
MPC and peers' capex in 3Q17
Considering 3Q17, MPC incurred capex of $791.0 million. MPC's peer Andeavor (ANDV) incurred capex of $398.0 million, of which $59.0 million went toward the Logistics segment and $264.0 million went toward the Refining segment.
ANDV spent $98.0 million on turnaround activities. Also, Phillips 66's (PSX) capex stood at $367.0 million in 3Q17. Plus, Valero Energy's (VLO) capital expenditure for the third quarter stood at $565.0 million.
Midstream capex and expansion plans
MPC's aim to strengthen its Midstream segment is evident from the fact that it incurred high capex in the segment. This capex took the form of organic capital spending, acquisition, investment, and dropdown.
In the first quarter, MPC dropped down some pipelines, terminals, and storage assets to MPLX (MPLX) for $2.0 billion. In the third quarter, MPC dropped down $1.0 billion in assets. In 4Q17, MPC has declared a dropdown of assets worth $8.1 billion to MPLX, which is expected to be completed in 1Q18.
MPC plans to incur capex of $3.7 billion in 2017, including MPLX. Of this $3.7 billion, ~$1.1 billion is expected to be applied to its Refining segment. Also, MPC plans to spend ~$2.1 billion on its Midstream segment.
MPC is focused on expanding its Midstream segment's earnings. The strategic plan, which is reorganizing the company's assets, includes dropdowns and exchange of its economic interest in GP and IDRs for new MPLX LP units.
Gary R. Heminger, the chairman and chief executive officer of MPC, noted during its 3Q17 earnings release, "With visibility to strong growth opportunities through a robust portfolio of organic projects and strong distribution coverage, MPLX is well-positioned to be a significant source of long-term value for our investors, which will be further enhanced once the exchange of MPC's GP economic interests is complete."
Move to the next part to learn about MPC's segmental earnings trend.