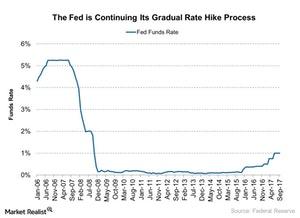 Bill Gross and His Stance on the Interest Rate
By Sarah Sands

Updated
Bill Gross on the interest rate
In an interview with CNBC's Power Lunch, Bill Gross shared his view on monetary policy, various central banks' decisions, and how that's going to impact the market movement.
The Fed started its gradual rate hike process in December 2015. Between December 2015 and November 2017, the US (SPX-INDEX) (SPY) Fed has hiked the key interest rate four times. Currently, the interest rate is 1%–1.25%. The Fed has already signaled that it might increase the interest rate to 2% in 2018 and 3% in 2019. On the other side of the coin, the ECB (European Central Bank) already signaled that there will not be any further rate cuts in the near future.
On Thursday, November 2, 2017, the Bank of England raised its interest rate 25 basis points for the first time in more than ten years. The hawkish tone from most of the central banks indicates that they could be planning to reduce their balance sheets.
Impact on the market
According to Gross, central banks' deleveraging processes could hamper the performance of the stock market. Since the 2008 global financial crisis, we've seen that the equity market (QQQ) (DJIA-INDEX) rally has been mainly boosted by the Fed's easing monetary policy. The Fed's easy leveraging process has driven market movement. In the present scenario, the tightening of interest rates across major developed nations could impact the movement of the stock market.
You may be interested in reading A Look at Warren Buffett's Stock Picks in 3Q17.