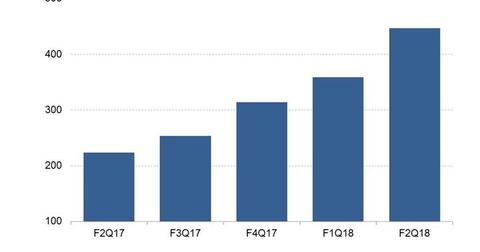 What Are Alibaba and Ford up To?
By Neha Gupta

Updated
Alibaba-Ford partnership touch on cloud computing
China-based (MCHI) e-commerce giant Alibaba (BABA) and US-based (SPY) vehicle manufacturer Ford Motor (F) recently inked a deal that would see the company cooperate in a broad range of business areas, including retail and cloud computing.
Alibaba is pursuing Amazon.com (AMZN) and Microsoft (MSFT) in the battle for revenues in the largely nascent but promising cloud computing industry. According to Synergy Research Group, Amazon and Microsoft are the world's leading cloud computing vendors, with Amazon clearly ahead of the competition with over one-third of the global market under its control.
In 3Q17, Amazon's cloud computing revenues rose 42% YoY (year-over-year) to $4.6 billion. Although Alibaba's cloud computing business grew faster than Amazon's at 99% YoY, its actual cloud revenue trailed Amazon's at just $447 million. (Amazon's calendar 3Q17 corresponds to Alibaba's fiscal 2Q18.)
Boosting Ford's sales in China
Meanwhile, Ford could be hoping to stimulate its vehicle sales in China through a tie-up with Alibaba. According to Reuters (citing an Alibaba spokeswoman), such retail cooperation could involve creating an avenue for Ford's cars to be sold on Tmall, Alibaba's online retail site.
For Alibaba, venturing into auto sales through a partnership with Ford could go a long way in boosting its global brand recognition and credibility. Alibaba recently got significant press when a pair of Boeing 747-400 jumbo jets was successfully auctioned on its Taobao e-commerce platform. The jets were auctioned for roughly $48 million in a transaction overseen by a court as part of a bankruptcy proceeding, the BBC reported.
Alibaba in smart vehicles
This partnership with Ford could also fit into Alibaba's ambition to develop smart vehicles. Alibaba is already working on a smart vehicle project in partnership with SAIC Motor.