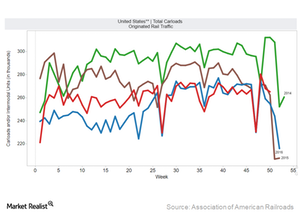 Week 50: US Rail Freight Traffic on the Rise
US rail freight traffic in week 50
The AAR (Association of American Railroads) published weekly North American rail freight data for the week ended December 16 (or week 50) on December 20, 2017. The US rail freight carriers reported a mid-single-digit rise in volumes that week. These railroads moved nearly 554,800 railcars, up ~6% YoY (year-over-year) compared with ~524,000 railcars in the week ended December 17, 2016. Railcars include intermodal trailers and containers.
Article continues below advertisement
US rail companies' carload traffic jumped 4.1% to ~265,000 railcars in week 50 of 2017 compared with over ~254,700 units in the corresponding week last year. Intermodal volumes of these railroads rose 7.6% in the reported week of 2017. The US railroads (CSX) carried over 289,600 containers and trailers from over 269,000 units in week 50 of 2016.
Change in carload commodity groups
In the 50th week of 2017, seven of the ten carload commodity groups reported volume rises compared with the same week last year. They included nonmetallic minerals, chemicals (DOW), and metallic ores and metals. On the other hand, commodity groups that registered a volume loss on a YoY basis in the reported week were grain, farm products excluding grain and food (ADM), and petroleum and petroleum products (UNG).
Volumes in first 50 weeks
US rail carriers posted a cumulative volume of 13.0 million carloads, up 3% from the same point last year for the first 50 weeks of 2017. These railroads hauled 13.5 million intermodal units, up 3.8% from last year. Combined US rail freight traffic for the first 50 weeks of 2017 was 26.5 million carloads and intermodal units. It reflects a rise of 3.4% over last year's volumes.
We'll begin the series with BNSF Railway (BRK-B), the privately owned largest Class I railroad in the US.