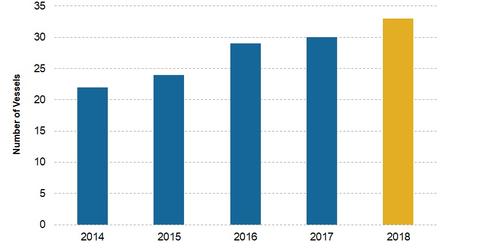 Week 48: Euronav and Nordic American Tankers' Fleet Updates
By Sue Goodridge

Nov. 20 2020, Updated 4:56 p.m. ET
Newbuild financing
Nordic American Tankers (NAT) announced on December 1, 2017, that it has secured financing for three of its newbuilds under construction. These three vessels were ordered by NAT in October 2016. At that time the company had paid 30% of the contract price, $55.7 million for each vessel. The company has now secured financing from Ocean Yield for about $43 million per vessel. The Suezmax newbuilds are expected to be delivered to NAT in the latter part of 2018.
Article continues below advertisement
NAT's fleet
Nordic American Tankers owns and operates 30 Suezmax vessels. In addition to this, the company has three newbuild vessels in the pipeline.
Euronav sells suezmax
On November 30, 2017, Euronav (EURN) announced the sale of its Suezmax vessel Cap Georges for $9.3 million. The vessel was delivered to its new owner the previous day. The vessel was built in 1998. Euronav will record a capital gain of ~$8.5 million in the current quarter. Euronav stated that this sale was part of the fleet renewal program and will further reduce the average age of Euronav's fleet. In the previous week, Euronav sold its VLCC (very large crude carrier) Artois.  
Article continues below advertisement
Euronav's fleet 
Euronav owns and operates one V-plus, 30 VLCCs, 19 suezmaxes, four suezmaxes under construction, and two FSO (floating storage and offloading) vessels.