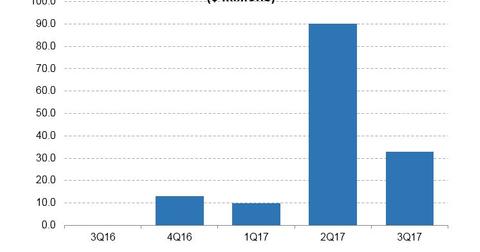 Why Wall Street Is Divided on Square's Bitcoin Venture
By Neha Gupta

Updated
Wall Street appears divided
Square's (SQ) venture into bitcoin trading through its Square Cash app has Wall Street talking, and now it appears Wall Street is divided about whether or not the company made the right move.
Analysts at Credit Suisse are optimistic about Square's foray into the bitcoin exchange business. In a note to clients cited by CNBC and Business Insider, Paul Condra of Credit Suisse wrote that Square's latest bitcoin move could generate an additional $30 million in revenue for the company in two years.
Credit Suisse raised Square price target on bitcoin move
According to Condra, an additional $30 million in new revenue would be possible if Square's bitcoin trading service attracts at least 10 million users and each user conducts transactions of $200 per year. Therefore, if Square sets a fee rate of 1.5% per transaction, it would be able to generate the estimated revenue.
Credit Suisse is bullish on Square's bitcoin prospects and raised its price target for the stock to $37 from $31.
Bitcoin viewed as extremely volatile
However, analysts at BTIG appear concerned about Square's entry into the bitcoin trading business. In a note to a client cited by CNBC, analyst Mark Palmer of BTIG described bitcoin as a "cryptocurrency that has frequently displayed extreme volatility," thus concluding that it wasn't optimal for Square to have its fortunes tied to bitcoin. BTIG downgraded Square stock to a "sell."
Nevertheless, the important takeaway is that both Credit Suisse and BTIG agree that bitcoin trading could contribute to Square's top line if the ongoing trial succeeds.
As China (MCHI) (FXI) escalated its crackdown on bitcoin exchanges this year, Japan (EWJ) recognized the digital currency as a legal form of payment. The bitcoin trading volume in Japan is said to be nearly double US (SPY) volumes. Demonetization in India (INDA) last year also boosted interest in digital currencies like bitcoin.