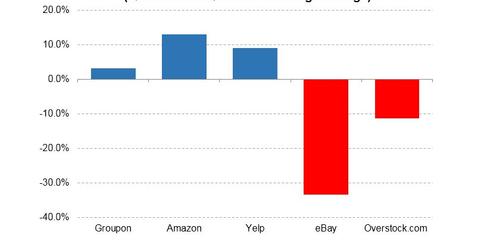 Where Is the Value in Groupon's Buyback Program?
By Neha Gupta

Updated
2.4 million shares repurchased
Groupon (GRPN) returns value to its shareholders through share repurchases. It's a program in which the company allocates a portion of its cash to buy back some of its shares.
In 3Q17, Groupon continued with its repurchase program and bought back nearly 2.4 million shares worth $9.2 million. Since the beginning of the year until 3Q17, Groupon had repurchased 16.9 million shares and spent $60 million on that course.
Making sense of Groupon's capital return
How valuable is Groupon's repurchase program to its shareholders? That question can be answered by looking at movements in the company's share price.
At the time Groupon was reporting its 3Q17 results, its stock price had risen 54.2% since the beginning of the year and 32.2% since it reported its 2Q17 results. That suggests that investors who had Groupon stock at the beginning of 2017 and participated in the repurchase program in 3Q17 made a 54.2% gain on their investments. Even investors who bought Groupon stock on the day it reported its 2Q17 earnings and participated in the 3Q17 repurchase program made a 32.3% gain.
$135 million remains in the repurchase budget
Groupon closed 3Q17 with $135.2 million remaining in its existing share repurchase program. That could indicate that the company still has enough room to continue buying back more shares.
Additionally, Groupon's cash holdings continued to increase in 3Q17, further implying financial flexibility for the company to continue its repurchase program. Its cash balance rose more than 3.2% sequentially to $638.7 million in 3Q17. Amazon (AMZN) and Yelp (YELP) increased their cash holdings 13% and 9.1% sequentially, respectively. For eBay (EBAY) and Overstock.com (OSTK), their cash holdings decreased 33.3% and 11.3% sequentially, respectively, in 3Q17.