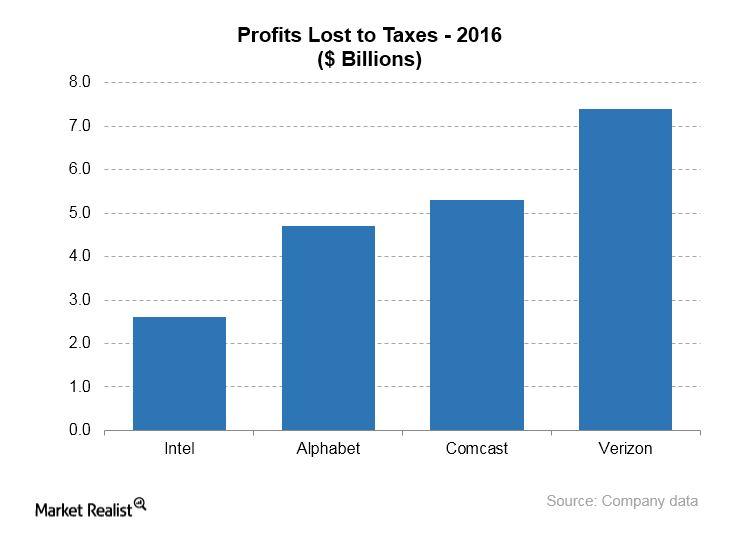 US Tax Reform: Will Alphabet, Verizon, and Intel Get Relief?
By Ruchi Gupta

Dec. 12 2017, Updated 1:52 p.m. ET
Stimulating economic growth
The United States (SPY) is on track to make the largest change to its tax laws since the 1980s. In the corporate world, the impact of the proposed tax code overhaul could be significant—and mostly favorable.
In the proposed tax code that's currently going through the legislative process, the corporate tax rate would be slashed to 20% from the present 35%. Proponents of the tax overhaul argue that a lower tax rate would stimulate economic growth as companies would use their tax savings to expand their businesses, hire more people, increase wages, and generally invest in more growth for the good of the economy.
Article continues below advertisement
Alphabet spent $4.7 billion in taxes in 2016
For companies like Alphabet (GOOGL), Apple (AAPL), Verizon (VZ), AT&T (T), Comcast (CMCSA), and Intel (INTC), capping the corporate tax rate at 20% from the present 35% could bring significant relief from tax burdens.
Alphabet, the parent company of Google, spent $4.7 billion of its profits on taxes in 2016. In the same year, Verizon, AT&T, Comcast, and Intel saw tax bills of $7.4 billion, $6.5 billion, $5.3 billion, and $2.6 billion of their profits, respectively. Taxes cost $15.7 billion of Apple's profits in fiscal 2017 (ended September 2017).
Although the proposed changes to US tax laws don't eliminate corporate taxes, these companies could save more of their profits if the corporate tax rate were capped at 20%.
Potential boost to revenue diversification
For Alphabet, a company that's trying to expand beyond its traditional online advertising industry, more tax savings could help it accelerate and perhaps broaden its revenue diversification efforts. For Apple, which also relies on the iPhone for the majority of its revenues, tax savings could boost revenue diversification.
For telecom companies such as Verizon, AT&T, and Comcast, tax savings could help spare funds for their efforts to counter disruptions such as cord-cutting, which is eating into their pay-TV subscriptions.