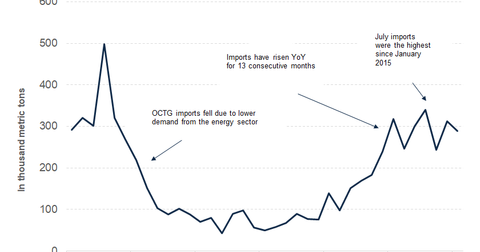 US Steelmakers Prepare for the Section 232 Findings in Early 2018
By Mohit Oberoi, CFA

Dec. 13 2017, Updated 12:33 p.m. ET
US steelmakers
US steel producers hailed the preliminary duties imposed against cold rolled coil and galvanized steel imports from Vietnam. According to Roger K. Newport, AK Steel's (AKS) CEO, "We commend the Commerce Department for holding these parties accountable and for sending a signal to foreign producers and countries around the world that the U.S. will vigorously enforce its laws without exception."
Newport added, "We encourage the Commerce Department and the Administration to continue these positive efforts with swift and broad action on the Section 232 investigation on steel imports."
Article continues below advertisement
Section 232 probe
Terming the trade action as an "encouraging sign for the steel industry," U.S. Steel (X) noted, "We urge Secretary Ross and President Trump to continue to aggressively crack down on unfairly traded steel imports, including immediate and broad action in the Section 232 investigation on steel imports and national security."
US steelmakers seem to be preparing for the Section 232 import probe, which is expected to release its findings in January 2018. While the Vietnam trade case might be a small victory for US steelmakers (MT), the real war against what the industry says are "illegally traded steel products" would depend on the Section 232 imports probe.
In previous scenarios, trade actions lost their focus after a while as we saw import substitutions from new countries. With the Section 232 imports probe, US steelmakers (NUE) (STLD) expect a sustainable solution to higher imports situation—something that traditional trade cases have not completely achieved.
Meanwhile, there's more positive news for US steelmakers as the Trump administration could push for increased infrastructure next. We'll discuss its implication in the next article.