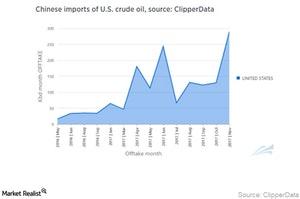 US Crude Oil Exports to China: Highest in November
By Sue Goodridge

Dec. 14 2017, Updated 2:55 p.m. ET
China's crude oil imports
In the last part, we saw that China's crude imports rose 12% in the first 11 months of 2017—compared to the same period last year. In this part, we'll take a look at China's new oil supplier.
China's crude oil imports from the US were the highest in November, according to ClipperData. In the past month, almost 289,000 barrels per day of US crude hit China's shores. Although this is a very small number compared to the total crude China imported every day in November—9.01 million barrels per day—it has a huge impact on the crude tanker industry. Traditionally, China imported most of its crude oil from the Middle East. Compared to the Middle East, the US is further away from China. Importing crude from further away increases the ton-mile demand, which is positive for crude tanker rates. Higher crude tanker rates benefit crude tanker companies like Frontline (FRO), Nordic American Tankers (NAT), Teekay Tankers (TNK), Euronav (EURN), DHT Holdings (DHT), and Tsakos Energy Navigation (TNP).
Article continues below advertisement
Why US imports increased
The major oil producers in the world—OPEC, Russia, and nine other oil exports—agreed to cut down oil production to balance oil's supply-demand fundamentals. As a result, the Middle East's oil exports to China have fallen in 2017. It encouraged China to diversify its suppliers. The US took advantage of this and increased its exports to China.
The price difference in WTI (West Texas Intermediate) crude and Brent crude oil, which are near $6 per barrel, makes US crude oil more attractive. Crude oil exports were at a two-year high of 2 million barrels in October 2017.