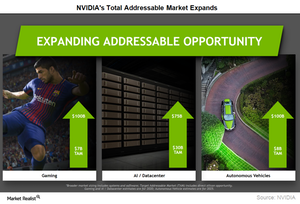 Understanding NVIDIA's Expanding Growth Opportunity
By Puja Tayal

Updated
NVIDIA's AI opportunity
So far in this series, we've discussed how NVIDIA (NVDA) is exploring its new AI (artificial intelligence) opportunities, though these are still in their infancy. At its 2017 Investor Day, the company stated that AI has a $30 billion TAM (total addressable market), of which about $4 billion would come from the traditional HPC (high-performance computing), $11 billion from training, and $15 billion from inference.
Article continues below advertisement
But that was the story at the start of 2017. As the year comes to an end, NVIDIA has added two more segments: GPU-as-a-service (graphics processing unit) and domain-specific AI. At the Supercomputing 2017 conference in November 2017, NVIDIA chief executive Jensen Huang stated that AI could support 70% of all workloads in the future, and his statement makes the $30 billion TAM look tiny.
At the Credit Suisse Technology, Media, and Telecom Conference, NVIDIA CFO (chief financial officer) Colette Kress talked about the company's TAM and how it will likely be expandable in the long-term.
Quantifying NVIDIA's AI opportunity
Kress stated that the data center market has transformed from what it was ten or 15 years ago and how many new things are entering the data center as AI replaces manual work. NVIDIA is exploring the possibilities of AI in major industries like heavy machinery, healthcare, and city management, each industry presenting a billion-dollar opportunity.
In a market that's unexplored, it's difficult to quantify the degree of opportunity, but investors like to quantify everything. NVIDIA arrived at its $30-billion TAM for the data center by looking at the areas it's serving today, the opportunities to add value to customers and maintain revenue growth, and areas where it can reinvest to build future technologies.
Article continues below advertisement
For instance, NVIDIA started offering Tesla GPUs to supercomputers and found that enterprises and data centers also needed HPC. It then added value to these customers by bringing its GPU cloud service. This value addition brought in more revenue opportunities, and now it's investing in specific verticals—such as healthcare in its partnership with GE Healthcare (GE).
This immense opportunity has gotten many tech companies interested in AI. From Google (GOOG) to Apple (AAPL), nearly everyone is developing AI chips.
Expandable TAM in gaming
But it's not just the data center TAM that's expanding. NVIDIA is also expanding its gaming TAM as the changing market dynamics expand its customer base. The gaming TAM is likely to expand with the increasing adoption of VR (virtual reality) and AR (augmented reality).
Expandable TAM in autonomous vehicles
Meanwhile, autonomous vehicles are still in their development stage, and it's too early to calculate the TAM for this market. However, the market could grow significantly once autonomous vehicles hit the road in 2020.
Next, we'll discuss what NVIDIA is doing to tap its autonomous driving opportunity.