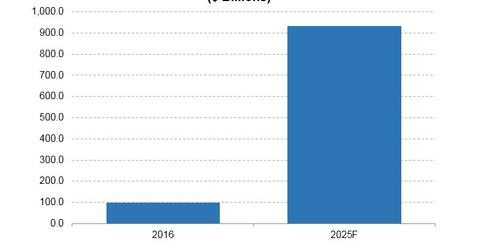 Understanding the Apple-General Electric Partnership
By Ruchi Gupta

Updated
iOS industrial SDK
In October, Apple (AAPL) and General Electric (GE) announced that they were teaming up to create industrial apps for mobile devices, specifically for Apple's iPhone and iPad devices. About one week after announcing the partnership, the companies proceeded to launch an SDK (software development kit) to enable iOS developers to write industrial-grade mobile apps that can work with GE's Predix platform.
Predix is GE's digital product designed as a platform for connecting industrial equipment such as power plants or jet engines to the Internet. As such, Predix is GE's offering in the IIoT (industrial Internet of Things) market.
A $933.6-billion market
Grand View Research predicts that the global IIoT market could be worth $933.6 billion in 2025. The market was estimated to be worth $100 billion in 2016, suggesting that the market is forecast to grow at an average annual rate of 25% between 2017 and 2025.
As such, plugging into Predix could unlock a huge market for Apple in the hardware and services markets. In the hardware market, Apple could see more iPhone and iPad sales to the industrial market. In the services market, the collaboration with GE could drive the uptake of Apple's industrial apps.
Apple building coalition for IIoT and enterprise mobility push
With the SDK that Apple and GE launched, iOS developers can bring Predix capabilities to iPhone and iPad, allowing service technicians or pilots to control machines and systems using familiar devices.
Apple has been building a coalition as part of its push into the IIoT and enterprise mobility markets. In addition to GE, other Apple IIoT and enterprise mobility partners include Cisco Systems (CSCO), IBM (IBM), and SAP SE (SAP).