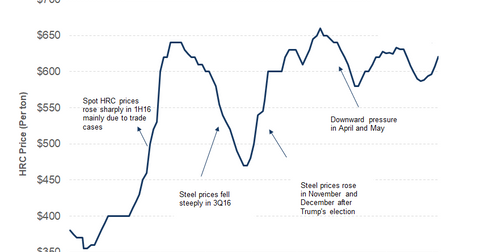 U.S. Steel Corporation in 2018: Time to Look beyond Section 232
By Mohit Oberoi, CFA

Updated
Section 232 probe
As we've already seen, the Section 232 imports investigation findings are expected in January 2018. Some analysts have recently turned bullish on US steel companies, including U.S. Steel Corporation (X) and AK Steel (AKS), as they anticipate a reprieve from the results of the probe. In the previous part of this series, we saw how tough action against steel imports could be positive for US steel producers (XME). In this part, we'll see how U.S. Steel Corporation could play out in 2018 if the Section 232 imports probe results disappoint the markets.
Outlook
While any tough action against steel imports under the Section 232 imports probe could help buoy US steel prices in 2018, the outlook looks decent even without any support from the Section 232 probe. Global steel markets have been strong, which should also support US steel pricing. And as we saw in the last few months, US steel imports have stabilized. Although in absolute terms imports are still high compared to what steel executives would want them to be, they are not at alarming levels.
The US steel markets could also get support from any infrastructure plans unveiled by the Trump administration next year. Higher infrastructure spending could spur US steel demand and is expected to have a positive impact on US steel prices.
Although U.S. Steel Corporation is not as exposed to the non-residential construction sector like its peers Nucor (NUE) and Steel Dynamics (STLD), the company could still gain from higher infrastructure investments if we see higher steel prices as a result of overall rising steel demand in the US markets.
However, while U.S. Steel Corporation's 2018 outlook looks reasonably bullish, the company could face some challenges in 2018. We'll look at these in detail in the next part.