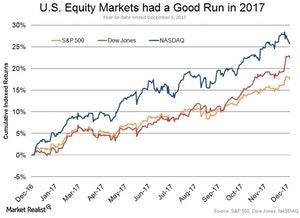 Why the US Equity Market Had a Good Run in 2017
Direxion
As 2017 draws to a close, investors take stock (get it?) of sector performance during the year. Overall, financial assets, especially equities, have performed quite well. As of December 6, 2017, the S&P 500® Index is up 17%+ with the NASDAQ-100® Index up a very solid 25%. Many investors look for lagging stocks and sectors to rotate into after such strong performances from the winners. With some exceptions, this year has been a bit different with the dominating 2017 and the losers mired in subpar returns. In this piece, we will look at the sectors that have fared the best this year and discuss whether [we believe] conditions are still in place for those sectors to continue to perform well into 2018. The good news for Direxion investors is whether you believe these sectors will stay red hot or will fizzle out into 2018, Direxion's Leveraged and Inverse ETFs have you covered either way. The en fuego sectors we believe will be technology and semiconductors, financials, emerging markets, and aerospace and defense.
Article continues below advertisement
Market Realist
Stock market trend in 2017
The presidential election turned out positive for the stock market in 2017. Since Donald Trump was elected as president, hopes of a better economy have emerged from the new administration. Many investors believed the new administration would be able to revive the economy with tax cuts, lighter regulations, a better job market, and higher infrastructural spending. These factors boosted the performance of the stock market, which has shown staggering growth. The chart below shows the performance of the three most popular indices in the US stock market. As of December 5, the S&P 500 Index (SPY)(SPX-Index) has gained 17.5% while the NASDAQ Composite Index (COMP-INDEX)(QQQ) and the Dow Jones Industrial Average (DJIA-INDEX)(DOD) have risen 25.6% and 22.4% year-to-date, respectively.
Sector highlights of 2017
The elections, improving economy, job numbers, and lighter regulations benefitted most sectors in the S&P 500 in 2017. However, there were a few that outshone this year. This series sheds light on three sectors—financials, technology, and semi-conductors, aerospace, and defense—and how they fared alongside the S&P 500 year-to-date. The chart below shows the year-to-date performance of Direxion 3X Bull ETFs for each of the sectors mentioned above and the S&P 500 3X Bull as of December 5. The performance of the Defense 3X Bull ETF since its inception is shown in the chart in Part 5. We'll also discuss how emerging markets have revived this year.
It's clear from the chart that the three sectors have outperformed the SPXL (3X Bull S&P 500) YTD. SOXL (Daily Semis Bull 3X) has gained the most at 128% with TECL (Daily Tech Bull 3X) not far behind at 109%.
The FAS (Daily Financial Bull 3X) has gained 62%. Since its inception on May 3, DFEN (Daily Defense 3X Bull) has beaten SPXL with a gain of 64.8% YTD. Emerging and developed markets also had a profitable year. EDC (Emerging 3X Bull) has returned 112% while DZK (Developed 3X Bull) has returned ~74% YTD in 2017.
Let's find out what contributed to these gains.