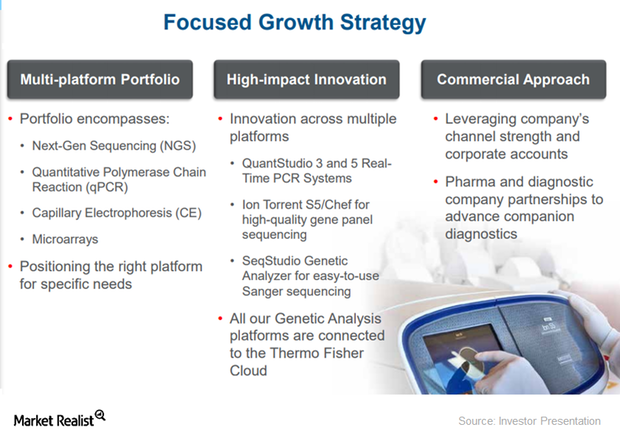 TMO's Launch of New Research Assay for Cancer
By Sarah Collins

Dec. 28 2017, Updated 10:33 a.m. ET
TMO's new research assay
On December 7, 2017, Thermo Fisher Scientific announced the launch of a new targeted NGS (next-generation sequencing) research panel. It is used for the simultaneous analysis of 74 cancer-relevant genes. The new Ion Torrent Oncomine Myeloid Research Assay analyzes myeloid cancer-associated 40 DNA mutations, 29 RNA fusion transcripts, and five gene expression levels.
The analysis takes place in a single run and provides results within two to three days. Some of the conditions that can be interrogated include myeloid leukemia, myeloproliferative neoplasm, and myeloid dysplastic syndrome etcetera. The assay is fully compatible with the Ion S5 and Ion PGM systems.
The new Ion Torrent Oncomine Myeloid Research Assay is not for diagnostic purposes but only for research use. The launch of the new assay accelerates TMO's genetic analysis business growth strategy, as shown in the diagram above.
Article continues below advertisement
The assay simplifies the workflow
The Ion Chef System for library preparation simplifies the Oncomine Myeloid Research Assay workflow. As a result, there would be a reduction of total hands-on time to less than 45 minutes. Also, users obtain access to the Oncomine Knowledge Reporter, which helps users link variants to relevant guidelines, labels, and global clinical trials.
Benefits over traditional approaches
Under the current approaches, researchers would follow a cumbersome methodology comprising different technologies to carry out multiple sequential analysis for the analysis of blood-related disorders. These methods are costly, take more time to yield results, and are difficult to implement in a laboratory.
With the acceleration in blood-cancer research, there is a greater need for analysis of more gene targets. To overcome the sequential screening approach, NGS can support the development of comprehensive assay designs that can enable simultaneous targeted content analysis.
Some of TMO's competitors in this market include Illumina (ILMN), Bio‑Rad Laboratories (BIO), and Agilent Technologies (A). In November 2017, Illumina launched NGS NextSeq 550Dx. Earlier this year, Agilent Technologies launched its new NGS library-prep solution.
In July 2017, Illumina and Bio‑Rad Laboratories launched the Illumina Bio-Rad Single-Cell Sequencing Solution which is the first NGS workflow for single-cell analysis.
Investors seeking diversified exposure to TMO can invest in the iShares Russell 1000 Value ETF (IWD), which holds ~0.33% of its total portfolio in TMO.