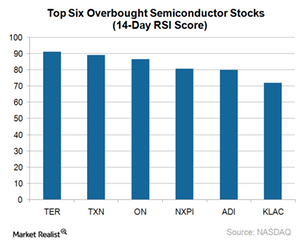 Why Teradyne Is on the List of the Most Overbought Semi Stocks
Relative strength index
Stock with high trading volumes are typically the ones preferred by institutional investors. These high-trading stocks are also the most volatile. Investors can either be bullish or bearish about a stock. If investor sentiment is skewed toward one position, the stock can be overbought or oversold.
Technical analysts use RSI (relative strength index) figures to measure the intensity of investor sentiment. RSI is measured on a scale of zero to 100, with less than 30 indicating that the stock is oversold, and greater than 70 indicating that the stock is overbought. A stock trading between 30 and 70 has a balanced trading activity.
Article continues below advertisement
Top six overbought semiconductor stocks
A stock that is overbought is likely to witness some price correction if there's no news that can hold investors' optimism. As of December 22, 2017, Teradyne (TER) was the most overbought stock, with a 14-day RSI score of 91, followed by Texas Instruments (TXN) at 89, ON Semiconductor (ON) at 87, NXP Semiconductors (NXPI) at 81, and Analog Devices (ADI) at 80.
However, Wall Street analysts are bullish on the above stocks, except for TXN and NXP. NXP will soon be excluded from the stock market after it's acquired by Qualcomm (QCOM). For this reason, analysts have not revised their average price target above $110, Qualcomm's offer price for NXP.
Will the above stocks continue to outperform?
Teradyne and ON are currently trading at the higher-end of its 52-week range. The stock prices rose 67% and 63.9%, respectively, over the past year. Despite such strong growth, Wall Street analysts expect these stocks to rise to $46 and $24, respectively, breaking their own 52-week record.
Analysts calculate the price target of a stock by applying a price ratio to their estimates for the company's earnings and cash flows for the next few quarters. ON has been reporting steady sequential revenue growth in the past four quarters, and analysts expect this growth to continue in 2018 as well. The growing adoption of industrial automation has boosted Teradyne's revenues, and analysts expect this growth to continue in 2018 as well.
Analysts' optimism still tells us that these stocks have strong growth potential. If this growth trend continues, the 52-week highs could become the new normal for these stocks.
Next, we'll look at the most volatile semiconductor stock.