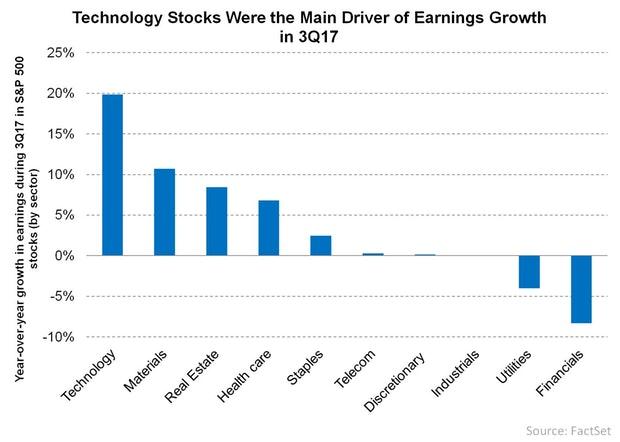 Why Tech Stocks Fell on November 29
By Sanmit Amin

Dec. 4 2017, Updated 1:27 p.m. ET
Tech stocks fell 2.7% on Wednesday, November 29
US tech (technology) stocks (IYW), which have been the darling of the market, saw some changes on Wednesday, November 29, 2017. The biggest winning tech stocks this year saw some investors taking their profits off the table. There wasn't any particular fundamental reason for the losses.
However, investors could have been becoming wary of the valuations in the sector. Tech stocks have seen tremendous earnings growth in an otherwise lackluster earnings environment. That has caused investors to pour more money into the sector.
Article continues below advertisement
Tech stocks have been the driving force of the S&P 500 Index
The S&P 500 technology index fell 2.7% on Wednesday, November 29. Facebook (FB), which has risen more than 50% this year, fell 4.6% on Wednesday. Netflix (NFLX) and Google parent Alphabet (GOOG) fell 3.5% each. Amazon (AMZN) fell 3.4%, while Apple (AAPL) fell 2.7%. Nvidia (NVDA), which has risen close to 100% in 2017, fell 6.8%.
As the graph above shows, the technology sector has been the driver of earnings growth within the S&P 500 index. Big tech companies have seen tremendous revenue growth recently, which has led to outstanding returns on their respective stocks.
Such bouts of investor wariness about tech sector valuations took place in June and September. However, the tech sector bounced back with a bang. The next few sessions could be critical, as a continued downturn could make the markets nervous. That said, fundamentals for the tech sector still remain strong.