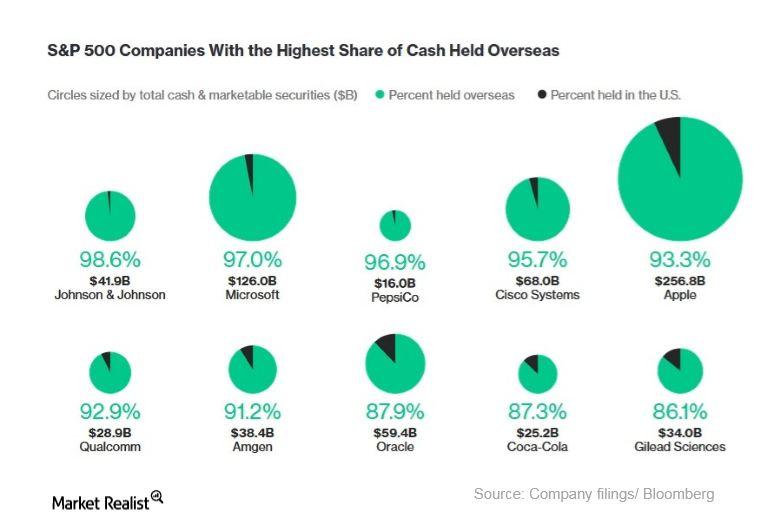 Tax Reform: A Christmas Gift for Microsoft and Apple?
By Ruchi Gupta

Dec. 12 2017, Updated 3:25 p.m. ET
Taxing offshore profits at 14.5%
The proposed US (SPY) tax code, which is presently going through the legislative process, calls for offshore profits earned by US multinationals to be taxed at a maximum rate of 14.5% as opposed to the present 35%.
Apple (AAPL), Microsoft (MSFT), and Cisco Systems (CSCO) are among the US companies with most of their cash holdings parked in offshore accounts. From company disclosures, Bloomberg compiled a list that shows that Apple has more than $239.6 billion in cash held overseas, representing 93.3% of its total cash holdings. Microsoft has roughly $122.2 billion in cash held in offshore accounts, representing 97% of its total cash holdings.
Article continues below advertisement
American companies keeping over $2.5 trillion in profits offshore
Cisco Systems and Alphabet (GOOGL) have parked $65.1 billion and $55.7 billion in cash in offshore accounts, representing 95.7% and 60.3% of their cash holdings, respectively.
The White House estimates that American businesses are holding more than $2.5 trillion in profits in offshore accounts. Part of the reason for tax reform is to encourage US multinationals to repatriate their offshore profits so that they could invest to stimulate the domestic economy.
Trump sought a 10% tax rate
If the proposed tax reforms go through, Apple, for example, would only pay a 14.5% tax on its $239.6 billion offshore cash as opposed to the 35% tax rate it would be subject to under the existing tax laws.
However, Apple and its peers like Microsoft and Cisco Systems, which are holding vast amounts of cash offshore, would have a much better tax break if President Trump's suggested repatriation tax rate won the day. The president suggested that he would like to tax offshore profits at 10%.
Republican leaders are working to get the tax code overhaul done by Christmas.