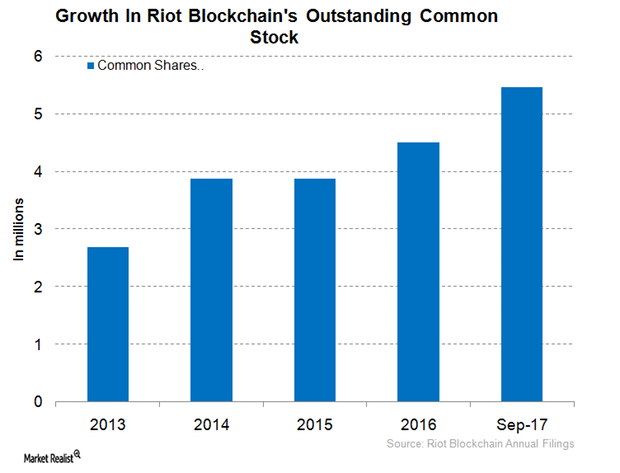 Riot Blockchain's Financials
By Kenneth Smith

Dec. 6 2017, Updated 7:33 a.m. ET
Equity financing
Riot Blockchain (RIOT) has generally taken the route of equity financing to fund its operations. At the end of September 2017, it had cash and equivalents of ~$13 million and an accumulated deficit of ~$121 million.
In March 2017, the company raised $2.2 million through the sale of 900,000 shares, including an equal number of warrants. In the same month, it also closed a convertible note financing of $4.7 million.
Article continues below advertisement
Revenue
Riot Blockchain received $24,175 from Ceva Sante Animale as license payments for three months ended September 2017.
In February 2016, it sold off its corporate headquarters and land for ~$4 million and leased back space in the building under a short-term lease.
For 3Q17, the company incurred SG&A (selling, general, and administrative) expenses of $597,018 compared with $1.4 million in 3Q16, a fall of 60%. R&D (research and development) expenses fell year-over-year by 67% to $18,000 in 3Q17.
That resulted in a loss in operations, from $1.5 million in 3Q16 to $590,501 in 3Q17. On the other hand, the company's interest expense surged from $2,384 in 3Q16 to ~$4.8 million in 3Q17. The substantial increase in interest expense was due to accrued interest on the convertible notes issued in March 2017, interest on warrants, and the conversion of notes into the company's series A preferred stock. For the nine months ended September 2017 and for 2016, the company's net loss was ~$11 million and $2 million, respectively.
As a result, the net loss per share was $0.98 in 3Q17 compared with a loss of $0.43 per share in 3Q16.
The company's average number of shares outstanding has increased from ~4 million in 3Q16 to 5.4 million in 3Q17. That's a significant dilution for existing shareholders.
In the next part of this series, we'll look at the key risks facing Riot Blockchain.