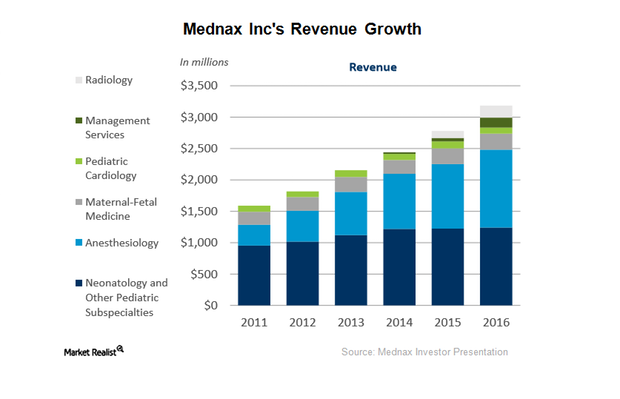 Understanding Mednax's Financial Position
By Kenneth Smith

Dec. 14 2017, Updated 12:52 p.m. ET
Financials
In 3Q17, hurricanes negatively affected Mednax's (MD) revenues by close to $2 million. According to the company, acquisitions in radiology, anesthesia, and neonatology contributed around 430 basis points to revenue growth.
The company's practice salary and benefits expense was 67.5% of revenue at $586 million, compared with 63% of revenues or $522 million in 3Q16. While the EBITDA[1. Earnings before interest, tax, depreciation, and amortization] margin was 17.4% in 3Q17, compared to 22% in 3Q16.
Mednax's business experiences seasonality. Typically, we see a decline in revenue numbers between the fourth and first quarters of the fiscal year.
Article continues below advertisement
Revenues
In 3Q17, the company reported revenues of $869 million, compared with $828 million in 3Q16, a year-over-year (or YoY) rise of 5%. Of this increase, $35 million came from the string of acquisitions the company made in the last 12 months. The remaining $6 million came from same unit growth. Same units are the units where the company provided services for the preceding 12 months. In 3Q17, sales volumes for anesthesiology services saw a YoY fall. On the other hand, volumes for radiology and neonatology rose YoY.
For fiscal 2017, Mednax is expected to report revenues of $3.4 billion while peers LifePoint Health (LPNT), Acadia Healthcare (ACHC), and Envision Healthcare (EVHC) are expected to report revenues of $6.3 billion, $2.8 billion, and $7.8 billion, respectively.
Practice salaries and benefits—a key component of the company's expenses—rose 12% to $587 million in 3Q17, compared to $522 million in 3Q16. This rise was due to higher costs for physician and staff salaries and incentives.
Receivables management
A key component in managing cash levels is managing receivables. At the end of September 2017, the company's days sales outstanding (or DSO) were 55.1. At the end of December 2016, this number was 54.9 days.
Notably, Mednax makes up about 0.13% of the Vanguard Small-Cap ETF's (VB) total portfolio holdings.
In the next part of this series, we take a look at the key risks facing the company.