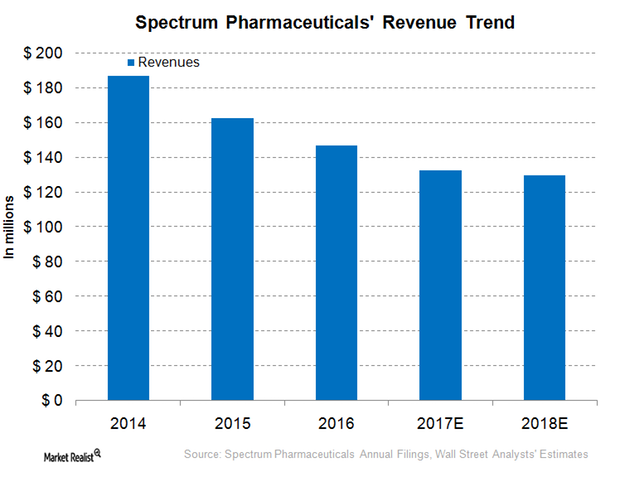 Chart in Focus: Spectrum Pharmaceuticals' Financials
By Kenneth Smith

Dec. 12 2017, Updated 12:01 p.m. ET
Revenues
In 3Q17, Spectrum Pharmaceuticals (SPPI) recorded total revenues of $36.0 million. Of the total revenues, $31.0 million was generated from product sales, and $5.0 million originated from license fees revenue following the approval of Folotyn in Japan.
In fiscal 2014, 2015, and 2016, SPPI generated revenues of $187.0 million, $163.0 million, and $146.0 million, respectively. In fiscal 2017 and 2018, the company is expected to report revenues of $133.0 million and $129.0 million, respectively.
Article continues below advertisement
SG&A and R&D expenses
Spectrum Pharmaceuticals (SPPI)  incurred SG&A[1. selling, general, and administrative] expenses of ~$19.0 million in 3Q17 compared with $19.5 million in 3Q16. The reduction in costs was due to a decrease in the costs of patent litigation.
The company's R&D[2. research and development] expenses totaled $14.0 million in 3Q17 compared with $13.0 million in 3Q17. This increase was attributed to Phase 3 clinical trials of Rolontis and clinical activities for Poziotinib.
3Q17 cash improved over 2Q17
In 3Q17, Spectrum Pharmaceuticals (SPPI) raised $114.0 million from the sale of 12.6 million shares through its security offering program. At the end of 3Q17, the company held $248.0 million in cash and cash equivalents compared with $139.0 million at the end of 2Q17.
The company also entered into an agreement with its bondholders to exchange ~$70.0 million in aggregate principal of bonds for 5.4 million of the company's newly issued shares along with ~$27.0 million in cash. With this agreement, the company was able to reduce its debt to ~$41.0 million from $120.0 million.
In 3Q17, Spectrum Pharmaceuticals issued 1.0 million shares for net proceeds of $14.3 million.
Spectrum Pharmaceuticals makes up ~0.44% of the iShares S&P Small-Cap 600 Value (IJS) ETF's total portfolio holdings.