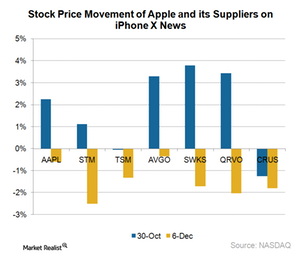 Stocks of Apple's Suppliers React to iPhone X News
By Puja Tayal

Dec. 14 2017, Updated 12:50 p.m. ET
Apple's suppliers react to iPhone news
We previously noted that the Nikkei Asian Review reported on December 6 that Largan Precision, one of Apple's (AAPL) suppliers, is expecting its December sales to fall. This sales decline could be due to low orders from unnamed customers. On that day, Largan Precision stock fell 10.0%, and Apple stock fell 0.6%.
Some of Apple's suppliers appear to be more sensitive to iPhone news than Apple is because they rely on Apple for a significant portion of their earnings. The news regarding Largan Precision raised concerns among already-cautious investors, creating a temporary setback among other component suppliers.
On December 6, Broadcom (AVGO), Skyworks Solutions (SWKS), Qorvo (QRVO), Cirrus Logic (CRUS), and STMicroelectronics (STM) fell 0.4%, 1.7%, 2.0%, 1.8%, and 2.5%, respectively. The stock prices of Qorvo, Cirrus Logic, and STMicroelectronics fell more sharply, as they have high exposure to Apple.
These are the same stocks that reported strong growth on October 30, 2017, the next trading day after the launch of the iPhone X.
Article continues below advertisement
Apple's assembly and foundry partners react to iPhone news
In addition to Apple's component suppliers, its Taiwan-based (EWT) assembly and foundry partners also reacted to Largan Precision's news on December 6, 2017.
The stock price of Hon Hai Precision Industry, the sole maker of iPhone X and main assembler of the iPhone, fell 1.6%.

The stock price of TSMC, the exclusive supplier for iPhone's core processor chips, fell 1.3%.

The stock price of Wistron, the first OEM[1. original equipment manufacturer] for Apple's 2017 iPhones in India, fell 2.6%.

The only exception to this trend was Pegatron, the exclusive supplier of the wireless charger for the entire 2017 iPhone lineup. Pegatron stock rose 1.2%.
The stock prices of three of the above four assembly and foundry partners have been on a downward path for the last month, as they have significant exposure to the iPhone 8 and 8 Plus.
Only Hon Hai Precision Industry stock has been on a growth path over the last month due to its significant exposure to the iPhone X. Apple stock has been on a downtrend over the past one-month period.
This month-long downtrend is not due to any negative news from suppliers of iPhone components. Let's move to the next part of this series to learn more.