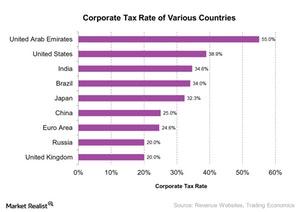 Stanley Druckenmiller on Tax Reform: How It Could Benefit Hedge Funds
By Sarah Sands

Updated
Stanley Druckenmiller's interview on CNBC
On December 12, 2017, Stanley Druckenmiller, the chairman and CEO of the Duquesne Family Office, shared his view on tax reform, the central bank's decisions, the economy, and his stock picks in an interview with CNBC.
Druckenmiller on tax reform
Just after the announcement of the 2016 US presidential election outcome, billionaire investor Druckenmiller said in an interview with CNBC that tax reform would boost economic (QQQ) (SPY) growth. He added that he is optimistic about the US economy (SPX-INDEX) (COMP-INDEX).
During his presidential campaign, Donald Trump promised that he would tax carried-interest at a higher rate and would remove all the loopholes from the tax system. Carried interest is generally profitable for private equity players and hedge fund managers.
In the GOP's proposed tax framework, there has been no change for carried interest. However, the tax framework indicates that doctors and lawyers would pay more for these loopholes.
During the CNBC interview, Druckenmiller said, "You have these multi, multibillionaires — with carve-outs — let's be clear. Carried interest … you're making money on somebody else's capital. It's not on your own. If that's not income, I don't know what is."
The lower tax bracket for carried interest is expected to be profitable for the hedge fund industry.
Druckenmiller added, "First of all, the billionaires lobbying the congressmen for this ought to be ashamed of themselves because we're asking doctors and lawyers and other Americans in blue states to take tax increases so we can fund this kind of nonsense."
In the next part of this series, we'll analyze Stanley Druckenmiller's view on central banks.